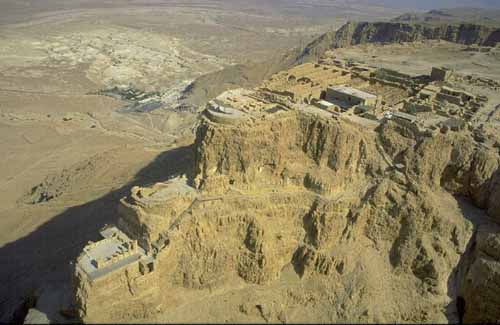 There are so many things to see and do in Israel that it could take a lifetime to see and do it all. It's amazing that there is so much history both of the world and of religion in one tiny slice of real estate. Nearly all of the world's major religions have deep and profound connections to this tiny country. There are forever disputes over who has the rights to what parcel of land in this region. There is a lot to learn about this amazing place.
Now, I suppose that it would make sense to visit Jerusalem. Possibly Nazareth, Galilee, and Bethlehem too. But that will be a lesson in some history and a whole lot of religious doctrine, so I thought that it would be fun to suggest looking into something a little off the beaten path.
It's called the fortress of Masada. This is one of King Herod's monuments to paranoia and a showcase to his opulent wealth. It comes with a whole lot of history too.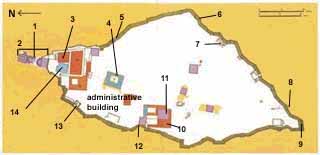 1. Small bathhouse
2. Herod's palace-villa
3. Storerooms
4. Apartment building
5. Snake-path gate
6. Casemate-wall
7. Zealots' living quarters
8. Underground cistern
9. Southern bastion
10. western palace
11. Throne room
12. West gate
13. Synagogue
14. Large bathhouse
Masada, or citadel, which is pretty much what the word actually means, was a massive fortress built just before the time of Christ, by King Herod. It was one of seven massive fortresses that he had built throughout his kingdom. It was a combination of preparation to be under siege, and a show of his power and wealth. He had Roman baths, which were controversial in the area at the time, huge storerooms to stash supplies in, and an opulent palace-villa where he lived. It was an imposing fortress that covered the top of the plateau 1,200 feet above the desert floor, overlooking the Dead Sea. There were several sections to the fortress which made it a self contained entity, that could survive a long time under siege.
Everything was taken into consideration. There were towers where they raised and housed pigeons for food.
They had deep caverns to hold collected rainwater to drink.
The whole place is amazing, and it's well worth a look. The guides are very knowledgeable and will tell you all of the amazing history of the place. Herod was prepared for his fate. But no one could have seen what was coming years later.
In 66 CE a group of Jewish religious Zealots, as they have been called, took refuge in the old fortress to escape the conquest of Jerusalem by the Romans. They had plenty of stored preserved food left over from Herod's time, and thought that they would be fine living there. The problem being that a few years later, the second temple in Jerusalem was destroyed and the Roman's decided that it was also time to deal with Masada.
The Romans descended upon the fortress where the resistance was holed up, and prepared to enter the citadel. Going against Jewish law, the occupants staged a mass murder/suicide to avoid being captured by the Romans. Only a woman and five children were found alive, which is quite possibly why the story is still known today.
Now, the fortress is here for our viewing and education. It is a place that is steeped in history and teaches us a valuable chapter in Israel's history.
Now, we know a little about the history. What about actually going there? Well, it's best to not go in the middle of summer or in the dead of winter. The summer brings about such heat that they will not let you walk the paths to the fortress unless you go early in the morning. In the winter they don't have the beautiful light show at night that goes with the historical performances in the amphitheater. So, pick your poison there. Also, do not be concerned if you can't make the 15-20 minute walk from one side or the hour long hike from the other. There is a cable car to help you along the way. There is a lot of ground to cover within the fortress itself, so there will still be walking to do. I always say bring water. This is the desert. bring a hat for the sun too. There is a gift shop where you can get a drink if you don't have enough.
Now, I did mention that Masada overlooks the Dead Sea, right? Well, that's the other part of this one.
After wearing yourself out climbing around Masada, it's time to take a dip in the world's most salt concentrated body of water. This baby has a higher saline concentration that the Great Salt Lake in Utah. And here's the catch.
The Dead Sea is known for it's therapeutic effect on people. It's a well known belief that salt helps many ailments, and this water is full of it. People come to soak in this water because they want to feel better. They want to ache less. People come here and rub the black mud from the area all over their bodies, because the minerals in this earth are healing and make people feel better. It's not unusual to see people covered in black mud around this sea. It's what they come here for.
The Dead Sea is the lowest place on Earth, coming in at 417 feet below sea level. The Jordan River empties into it, but so slowly that the salt collects faster than the water, thus the high salt content. There are no fish or other living creatures in this sea. One end of it is an industrial collecting grounds for the salt.
One of the most endearing qualities of the Dead Sea is that anyone can just float around in it. The high salt content makes us humans way more buoyant. Most people lay in the water and read or watch the world go by. It's a truly unique experience.
So, even though the Middle East is never the most placid and stable place in the world, they have so much to offer that it would be a shame to take it off your bucket list because of terrorists. Take a chance and come to the desert world of Masada and the Dead Sea.
http://www.bibleplaces.com/deadsea.htm
http://www.extremescience.com/dead-sea.htm
http://www.goisrael.com/Tourism_Eng/Tourist%20Information/Discover%20Israel/Geographic%20Regions/Pages/The%20Dead%20Sea%20General%20Info.aspx#Paragraph1
http://www.bibleplaces.com/masada.htm
http://www.israeltour.com/categories/about/masada.asp
http://www.chabad.org/special/israel/points_of_interest_cdo/aid/588226/jewish/Masada.htm
http://www.chabad.org/library/article_cdo/aid/341444/jewish/The-Rock-and-the-Menorah.htm
http://www.youtube.com/watch?v=0nae2k47qOw
http://www.jewishvirtuallibrary.org/jsource/Archaeology/Masada1.html
http://www.israeldiscoverytours.com/
http://www.yallatours.com/israel/index.shtml
http://www.israel-guides.net/private-tour/mysterious-masada/
http://www.desertecotours.com/english/dead_sea_massada.asp
http://www.guidedtoursisrael.com/dead-sea-tour.html
http://www.cafepress.com/artisticcreationsbyninakindred1
http://pixels.com/profiles/terri-dixon.html
http://www.zazzle.com/imagings
While you're there, if you like a lot of hiking and climbing, check out Qumran and the caves of the Dead Sea Scrolls too.
Enjoy!