It's rare that I recommend taking a cruise. In today's world they tend to develop mechanical problems, carry disease, and crash off the coast of Italy. Combine that with the fact that you spend your vacation on a boat and not seeing things out there in the world, and no, I'm not a fan. There are different kinds of cruises though. Once in a while, I find one worth mentioning.
The Queen of the Mississippi is a brand new cruise ship that is made to look and feel a little bit like the old river boats that used to sail people up and down the Mississippi River over a hundred years ago. The amenities are spot on for modern times, but the trip is designed to be a trip through the pages of history. While there are tons of things on board to enjoy, this is not your thrill a minute Carnival Cruise with the malls and waterparks on board. This is a little slower with a lot more time on shore seeing the things that you really want to see.
The staterooms are beautiful and live much like a hotel room. That's a must these days. The view of the river is the great part. The Mississippi River is roughly a mile wide in the south. That makes for some dramatic views any time of the day and night.
New Orleans is a popular taking off and first shore excursion point. Shore excursions from the cruise are for people who are looking for culture and history. You can take the city tour that takes you to the French Quarter and to other historical sites in New Orleans.
Along the way on this cruise you will get to visit plantations, such as Oak Alley, which have been preserved to educate the public about the lives of the people who lived and worked on these grand old enormous farms. Some of the plantations that you can visit on the cruise still have antique cotton gins that work and still produce field after field of cotton. Some of the plantations have museums that teach about the lives of slaves and what they endured. Some of the plantations have wine tasting and some of them are living on as a bed and breakfast type hotel. These places are laid back and beautiful. These are places to learn something and be a shutterbug. You won't find wild parties here or dance clubs. This is the old south, and it's still there for people who want to learn what it was once all about.
Natchez, Mississippi is home to an enormous collection of Antebellum homes and other historic structures. This is the southern version of Newport, Rhode Island. Taking a city tour of this town is like stepping back in time, because the whole historic section of town is grand. You look around you and you see nothing but old grand homes. It feels like you traveled back in time.
This cruise stops for Graceland. Once again, if you're 21 and you're looking for thrill rides or hot clubs, this is not for you. Graceland of course, was Elvis Presley's home. The King of Rock is laid to rest on the property. Fans have come from all over the world to see this home. But, for those of us who like Elvis and aren't obsessed, it still is a beautiful place to visit.
While in pursuit of history, you will get a chance to stop by Vicksburg. In 1863, this spot was the site of a bloody battle of the civil war. Thousands were killed on this parcel of land, and it is now a national park. Here you can learn more about the battle, the war, and the south's viewpoint on that historic war.
Finally, your cruise will come to rest in Memphis. Memphis is full of blues, barbecue, riverside attractions, and other wonderful things. It's the perfect end to a great river cruise on the mighty Mississippi.
Cruising the Mississippi is not a thrill a minute, but it is quite an adventure. It's more than a cruise. It's a look into a way of life that has long since gone by the wayside. It's a glimpse into a culture that's all but disappeared. You will get to see southern history, meet southern people, experience southern life, eat southern food, and hear a lot of jazz, blues, and Elvis music. It's a great way for those of us who have tired of the usual cruise ship itineraries to try something a little slower and more meaningful. It's a great way to learn what you didn't get to learn in school. Real history can't be learned in a book. You need to go out there and take a closer look.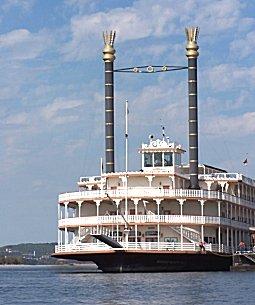 Come and see something amazing and stay on a paddle wheel boat on the Mississippi. It will be one cruise that you will never forget. You'll remember the places that you visit too.
Enjoy!
http://www.memphistravel.com/
http://www.elvis.com/graceland/
http://www.visitmississippi.org/default.aspx
http://www.stfrancisville.net/
http://www.oakalleyplantation.com/
http://www.louisianatravel.com/activities
http://www.visitnatchez.org/
http://www.frenchquarter.com/sightseeing/
http://www.americancruiselines.com/Find-a-Cruise/mississippi-river-cruises
http://www.cafepress.com/artisticcreationsbyninakindred1
http://pixels.com/profiles/terri-dixon.html
http://www.zazzle.com/imagings