In every picture I've ever seen, it looks like a wonderful boat trip under the stars, but it's not. Waitomo is a cave wonderland just outside Rotura, New Zealand, and the reason that the boat ride through it seems to be under the stars is because of the glow worms.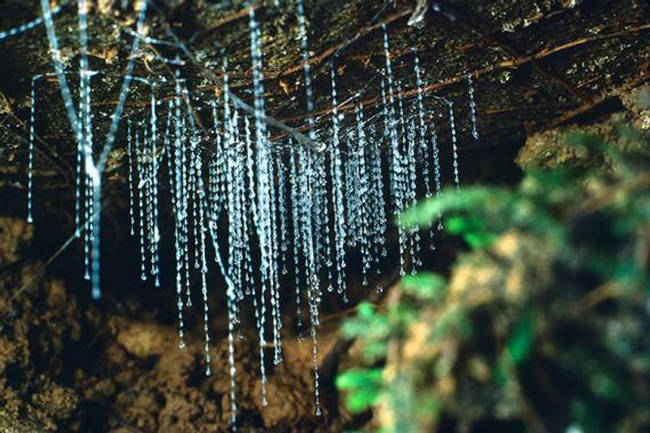 Thousands of the tiny glow worms live in these caves. The caves were discovered well over 100 years ago, and are the largest concentration of these creatures in the world. It is so unique that it was featured on the show, "Planet Earth." The caves are completely lighted by the glow worms and it takes about 20 minutes to adjust to their light for the average visitor. Both the walking and the boat tours are something that you will never forget.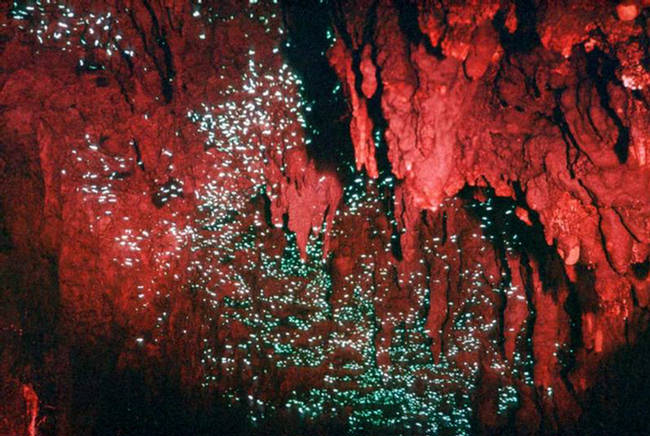 The Spellbound Gloworm Cave and the Cave of the Spirit are the two caves featured on these tours. There are several companies that run tours out of Rotura, and most of them are good. So, any tour you book is probably a fun one. The tours can take up to three hours, and give you a great chance to see these mystical little creatures in all their glory. Now, if you're already a cavern enthusiast, there are all the stalactites and stalagmites that you would normally see in a cave system, so you won't be disappointed on either front.
Now, if Waitomo Caves isn't enough subterranean fun for you, then right in the area is something that you won't want to miss. Ruakuri Cave is the longest underground tour in the country, and it was just reopened in 2005 after some major renovations for the clients' safety and convenience. There is one of the longest entry ramps in the world in this place now, and it is wheelchair accessible. That's always a plus.
Ruakuri has it all. This place has fascinating formations, enormous caverns, winding passageways, colorful stone, and waterfalls. That's right, there are subterranean waterfalls in this one. That's always a plus for me. It takes around two hours just to tour this one cavern area. That's a big one.
Here's a great side spot. There are bridges over crevices in this cave. They are over the
Huhunui River, which is a water rafting site. That's right, you can go water rafting right through the cave. Try that in a lot of other places.
Now, the caves are the draw in this particular area, but there is a Ruakuri Bushwalk too, and it's a beautiful walk. Once again, you will be crossing little river bridges, giving you yet another chance to see the adventurers below. This gives you a nice experience with rain forest and is a great walk if the 1.6 kilometers in Ruakuri wasn't quite enough for you.
If you're still looking for adventure, there's Aranui Cave. It's cavernous and beautiful like the others, but a little smaller than the rest of the group. For the avid cave adventurer, it does round out the trip quite nicely.
For the true adventurer, there is a trip with the Legendary Black Water Rafting Company. They have several different spelunking and black water rafting trips through these caves. It's a one of a kind experience to go into a cave to go rafting, and it's well worth the money that they charge. It's not something that's only for the experienced adrenaline junkie. It's an adventure for anyone.
So, whether it's Southern Edge, Legendary Black Water Rafting Company, or someone else that you decided to hook up with, the adventure of the Waitomo Caves System is great. It's an adventure for anyone, by any standards with the wheelchair accessibility, and the expert guides for water rafting. There are several caves to see and even a rainforest walk. It's hard to beat.
Oh yeah, it's on the north island close to Hobbiton, so if you love the Hobbit and the Lord of the Rings movies, you're in the right neighborhood.
Enjoy!
http://www.newzealand.com/us/activities-and-tours/?cid=p:sem:us:bing
http://www.waitomo.com/waitomo-glowworm-caves.aspx
http://www.agoda.com/waitomo-caves-hotel/hotel/waitomo-nz.html?type=1&site_id=1410046&url=http://www.agoda.com/waitomo-caves-hotel/hotel/waitomo-nz.html&tag=920b513b-6f22-48bf-bad0-7f11c69e11bb&utm_source=bing&utm_medium=cpc&utm_term=waitomo%2bcaves%2bhotel&utm_content=waitomo%2bcaves%2bhotel_12042&utm_campaign=hotel_new%2bzealand&cklg=1
http://www.southern-edge.com/
http://www.waitomo-caves.com/
http://www.newzealand.com/us/urban-and-scenic-attractions/?cid=p:sem:us:bing
http://www.glowworm.co.nz/
http://www.greatsights.co.nz/new-zealand-tour-destinations/waitomo-caves/
http://www.waitomo.com/black-water-rafting.aspx
http://www.thlonline.com/thlbusinesses/GuidedExperiences/NewZealand/Pages/Ruakuri.aspx
http://www.southern-edge.com/caving/ruakuri-cave/
http://www.hobbitontours.com/
http://www.rotoruanz.com/Home/
http://www.cafepress.com/artisticcreationsbyninakindred1
http://pixels.com/profiles/terri-dixon.html
http://www.zazzle.com/imagings