If you've ever wanted to get away for Christmas instead of hanging out with boring old family, then I have a spot for you. It's not cold, and it's not snowy. You won't see any evergreen trees. You also may not have a clue where Santa is coming from.
Melbourne, Australia is home to some of the most festive Christmas celebrations around the globe. Sure, Santa may be surfing instead of flying a sleigh with reindeer, but it's the amazing Christmas Festival that makes it great. There are amazing light displays all over town, and you can get a map so you can find them all. That's a convenience that I'm not used to. We normally have to drive around the get lucky to see the really good ones.
The big difference between Christmas here in the states and Christmas in Australia is the fact that winter is summer down under. The kids are on their school break like our kids are in the summer time. It's really hot there and people are spending their time at the beach and having barbecues. As a matter of fact, there is a new and different character symbolizing Christmas that is kind of catching on. They call him Swag Man. Now, my understanding of Swag Man is that he dresses for summer, drives a 4 wheel drive truck with his dingoes so that he can get around the outback. I don't know if it will catch on or take over. I think Santa is still safe.
It is somewhat custom to gather at the beach and have a seafood barbecue for Christmas. It's hot that time of year in Australia, and it's a great way to gather family, friends and whatever for the holiday. Imagine swimming and surfing for Christmas? Don't forget to bring a tree, but it probably won't be real, because it's just not customary. There also probably aren't a lot of evergreen trees in most parts of the country.
Now, let's revisit the lights. Melbourne has a light display custom designed to show on their town hall. It's a changing projection that is fascinating to watch. It's the coolest light display I've ever seen. The Fremont Street Experience in Las Vegas pales in comparison to this one. It's all Christmas, with animals, and animation. It's a real treat.
The City Square is transformed into Christmas Square. It's guarded by nutcracker soldiers, has a maze in it, and you can visit Santa in this neighborhood as well. You may get a chance to see a Christmas Bush, Australia's second cousin to the Holly Bush. There are so many festive things to see and do in the city at Christmas time. It's not all about the shopping.
So, the lights are great. Santa comes on a surfboard. Many people celebrate with an outdoor barbecue of seafood. There's tons of shopping and Christmas trees. People take their kids to see Santa. There are parades to welcome in the holiday. There are many similarities, but there are many differences. I mean Swag Man is a little different, but definitely Aussie.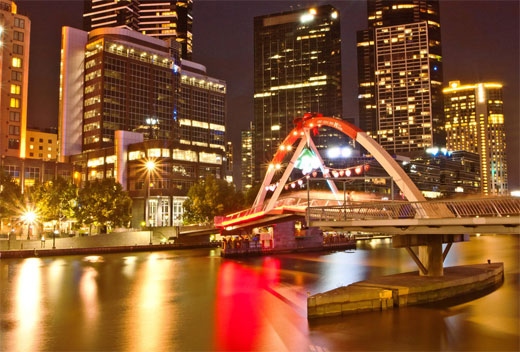 Here's one. It's called the Mistletoe Bridge. It's also called the Kissing Bridge. It's only called that at Christmas, but it's a very romantic place to give your sweetie a kiss. Kissing under the mistletoe is a romantic tradition around the world. In Melbourne, they've found the perfect site to put it in.
Here's the adventure for you. It's called Carols by Candlelight, and it takes place yearly at the Sydney Myer Music Bowl. Thousands of people come to this event to sing Christmas Carols and enjoy the holiday. It's a huge event every year. People come from all over the country and all over the world to see and participate in this fabulous show. Some of Australia's most noted singers perform on stage.
So, if you've had enough of ice and snow for Christmas and want to do something different without losing the holiday altogether, Melbourne is something really different, yet traditional. You can pick up all your relatives like in Home Alone, or you can run like the wind to get away from them. If you want something really different for your holiday, and you've had enough of your own family tradition, make a new one in Melbourne, Australia. It's an experience you'll never forget.
Enjoy!
http://www.whychristmas.com/cultures/australia.shtml
http://www.the-north-pole.com/around/australia.html
http://www.santas.net/australianchristmas.htm
http://www.onlymelbourne.com.au/melbourne_details.php?id=40844#.UqXtauJuG5I
http://www.chiff.com/christmas/christmas-australia.htm
http://www.thatsmelbourne.com.au/Whatson/Christmas/Pages/christmas-events.aspx
http://www.australia.com/about.aspx?channel=paid-search&tacampaign=us-local-fy2013-167-about-australia&campaign=167-about-australia&message=brand&publisher=yahoo&website=yahoo&adgroup=australia&keyword=australian%20attractions&matchtype=broad
http://www.melbourneholidaytours.com/
http://www.meridiantours.com.au/vacation_australia.htm
http://www.cafepress.com/artisticcreationsbyninakindred1
http://www.zazzle.com/imagings
http://pixels.com/profiles/terri-dixon.html