I've looked forward to talking about Denmark for a very long time, but I'm just now getting around to it. It's a fascinating country with so much to do and so much to learn. Denmark is currently considered the happiest country in the world. It's socialized lifestyle, while impossible to implement with any success in a larger country, works extraordinarily well for the Danes. They do have one of the highest taxation levels in all of Europe, but they also have one of the highest standards of living. What does that mean to the traveler? For one thing, it does mean that prices might be a little high, but they don't follow the Euro like most other countries in the continent. They still use the Danish Kroner, so make sure you look up the exchange rates for the right currency.
Denmark is famous for wind turbines. The sea around the conglomerate of dozens of islands that make up the country is full of them. They also have one of the more interesting bridges in the world to unite them with the rest of Europe. Everywhere in Denmark are amazing examples of architecture and engineering. It's one of the things that the country is known for. They still have an international empire as well. The Faroe Islands and Greenland are still protectorates of Denmark. Pretty good for a small little island nation in the North Sea.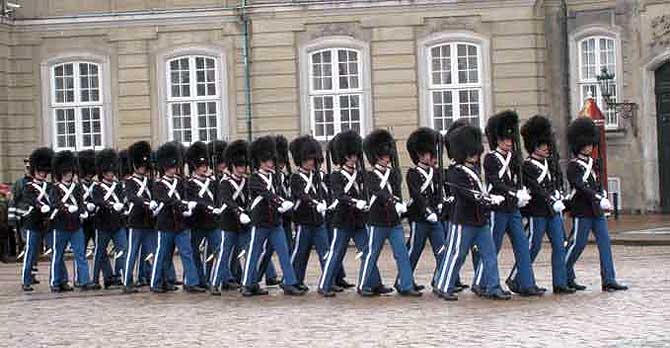 If you're looking for one of those European countries that still has a monarchy and has a whole lot of castles, then you've come to the right place. Denmark is home to one of the world's oldest running monarchies. They have a changing of the guard at the main palace complex every day, and it's really popular with the tourists. The country is currently ruled by Her Majesty the Queen.
Amalienborg Castle is the main residence of the royal family headed by Queen Margrethe. It's part of a four castle complex in Copenhagen, and only one of the fabulous castles to see around the country. I'll cover that one in a different entry to this blog. Irregardless, Denmark has some amazing historic sites to see.
I've taken this time to write about two theme parks in Denmark. Theme parks are not always an adventure for anyone, but this time they are. Tivoli Gardens in Copenhagen is one of them. This place sits in Copenhagen amongst the history and the new found food culture and the architecture of the city with a beauty that is hard to match. The gardens are hundreds of years old, the buildings are amazing, the gardens themselves are gorgeous. You could spend all day wandering the grounds just to look.
But there's more to it than just gardens and cool looking buildings. There's a theme park in there with roller coasters, thrill rides, amusements, boats to ride around in, great food, and in the winter time, you can come to see the Christmas lights and go ice skating. It's the preferred spot for the locals to go and spend the day. It's part of the happiness that the Danish folks enjoy.
One thing to remember however. At Tivoli Gardens there is beauty all around. That's why I see it as being for anyone. European theme parks have been around for millennia. There weren't always roller coasters. In the old days, you brought your family and a picnic to spend the day here. You went there to see the gardens and float around in a boat. Beauty is part of the park here. So, take time to smell the roses and don't worry about standing in line to ride the rides all day. This is an experience. Make sure you have the right one.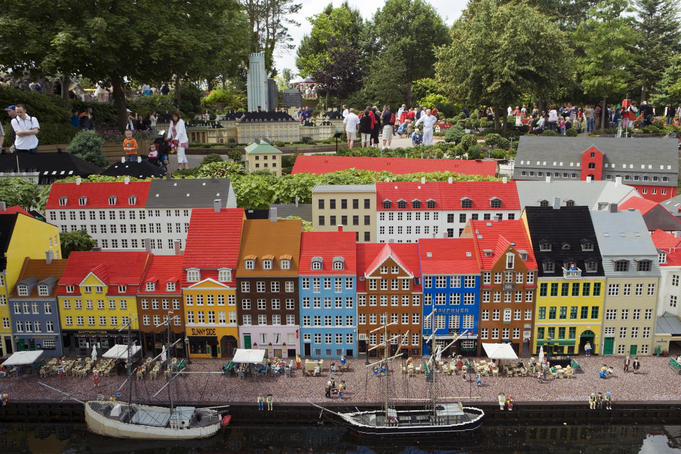 And that brings us to Legoland. That's right. It's one of the few things that Americans really know about Denmark. They invented and are home to the Lego building block. There are Legolands in other countries, but I say visit the original. Copenhagen has one of the loveliest old waterfronts in Europe, and if you missed it while in town, it's been immortalized 150 miles away in Legoland. Part theme park, part garden, and part Lego art museum, Legoland has something for everyone and is a great adventure for anyone. It's the kind of place that lets your imagination run wild.
Is it real, or is it made from Legos? That's an interesting question, and one that you will answer over and over during your visit to this park. Legoland comes with a theme park, a water park, numerous Lego sculpture areas, places where you can build your own things, gardens, shops, restaurants, theme hotels, and so much more. It's a one of a kind park, even thought there are a couple of others roaming around the world. But this is the original, and you should not visit Denmark and miss it. I found out a few years ago that the factory that you can take a tour of here is the only place that you can order regular old Lego sets from. If you want to reach for the stars and make the kinds of things that you see in the park, then you need regular Legos, not a kit to build some star wars ship or something. In many places throughout the USA, the only way to get that is to order it from Denmark. I've done that, and it was worth it to my son.
You can ride stuff, make stuff, buy stuff, and experience stuff. The best part about Legoland is that it sets your imagination on fire. You see so many amazing things. It sets your own wheels in motion about what you could build. If you can dream it, you can build it with Legos. And if you build it, they will come. I don't know about that, but if James May can build a house out of Legos, imagine what you could do.
So, set your mind and your imagination free with a trip to Tivoli Gardens and the original Legoland. Come to the happiest country on Earth and have the best time ever!
Enjoy!
http://www.visitdenmark.com/en-us/denmark/tourist-frontpage-usa
http://www.lonelyplanet.com/denmark
http://www.visitcopenhagen.com/copenhagen-tourist
http://denmark.dk/en/practical-info/visit-denmark/
http://www.goaheadtours.com/tours/europe/?popup=europe&utm_content=hover&mkwid=vxvP2wsj_dc&pcrid=5095262484&utm_source=bing&utm_campaign=GAT_Europe&utm_term=tours%20in%20europe&mt=b&utm_medium=cpc&utm_group=Europe_General
http://www.copenhagen.com/sightseeing/nycarlsbergglyptotek
http://www.10best.com/destinations/denmark/copenhagen/attractions/historic-sites/
http://www.thereareplaces.com/newguidebook/pdest/dapts.htm#Best_Places_to_Visit_in_Denmark
http://www.denmark-getaway.com/Legoland.html
http://www.legoland.dk/en/
http://www.tivoli.dk/en/
https://www.youtube.com/watch?v=JaWZWQcaKQ4
http://goscandinavia.about.com/od/thingstodo/p/legoland.htm
http://www.destination360.com/europe/denmark/legoland
http://www.copenhagentours.net/?ctt_id=1736891&ctt_adnw=Google&ctt_ch=ps&ctt_entity=tc&ctt_cli=11x23045x69524x515068&ctt_kw=copenhagen%20day%20tours&ctt_adid={creative}&ctt_nwtype=search&utm_source=bing&utm_medium=cpc&utm_campaign=Copenhagen%20Denmark&utm_term=copenhagen%20day%20tours
http://www.vikingcruises.com/oceans?medium=tsa&refsrcprg=sem:Ocean-Cruises-Denmark-Search-USA-CAN&gclid=CNDQzfyXyMACFce_7AoddDAACw&gclsrc=ds
http://www.affordabletours.com/Denmark/
http://www.cafepress.com/artisticcreationsbyninakindred1
http://pixels.com/profiles/terri-dixon.html?tab=artwork
http://www.zazzle.com/imagings