Above is a picture of Colleen Moore's Fairy Castle. If you've ever done the right thing as a tourist in Chicago, Illinois, you'll know what that is. It's one of the most beloved exhibits at the Museum of Science and Industry. It's not alone. There's also a simulated coal mine to explore, a WWII submarine to tour, and many other things from tornadoes to giant hamster wheels to keep everyone in a family entertained. It's the most extreme museum of it's kind in the western hemisphere. I didn't know that as a kid. I just knew that I was damn impressed.
Was this the reason that I decided to mention Chicago in this blog? No. The reason that I decided to mention this is because a friend of mine said that I should talk about some of the more unusual things about Chicago. She was right. So here it goes.
Now, everyone's heard of something about Chicago. Most of us remember Millennium Park from the last presidential campaign. That park is however, the centerpiece of downtown Chicago and host to many notable events.
Chicago is also famous for it's sports. It has them all, and they are all world renowned. Heck, I've gone to see the Bears a number of times. I've also spent a lot of time watching the Cubs.
Chicago is also famous for it's music and art. Jazz, Blues, Rock, and many others ring through the streets downtown at night. Comedy is big there too. Many legends of comedy have come from Chicago. The Art Institute keeps the arts alive and well in the city from painting and sculpture to theater.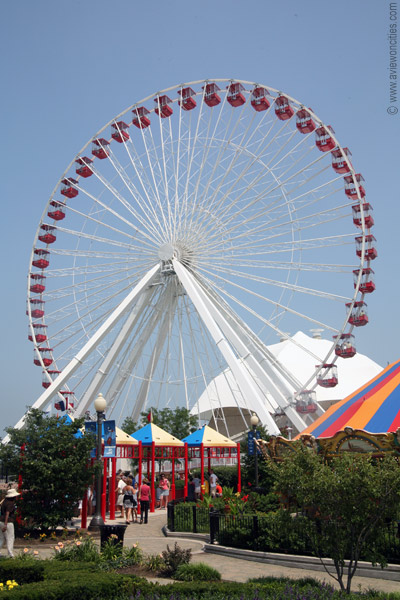 In reality, Navy Pier is just the beginning. The reason that I've decided to mention Chicago is because of a couple of the little tours that people should really try. We all know about the big stuff. It's the little stuff that makes you feel like an insider.
There are a few companies that offer what is called architectural tours along the Chicago River. This is the kind of city that makes something like that interesting. Chicago was burned down at the turn of the last century, and then it started to make taller and more inventive buildings, until it became a breeding ground for notable skyscrapers. These tours take you to up to 40 sites and tell you all about the amazing buildings that you're seeing. The river is a beautiful place lined with parks as well as giant buildings and criss crossed with draw bridges from days past. It's a fabulous way to spend an afternoon.
This is the Wrigley Building, a stopover on the tour.
This is the world renowned Marina Complex. All of these buildings and so much more are on these little river tours. They are a great way to spend the afternoon. It's relaxing and the view is positively indescribable. It's a little gem of a thing to do in a town that can quickly get out of control with touristy things that everyone else is doing.
Here's another one to remember. Chicago Pizza Tours takes you to several of the most notable pizzeria's in the city, and let's you not only taste them all, but also let's you go behind the scenes and see how they're made. If you're not on a diet, and love pizza, then this tour is for you. Chicago is famous for Chicago Style Pizza, but a lot of people don't realize that the city is full of different styles of pizza and is ground zero for the true pizza lover. I don't endorse a tour very often, but this one is great.

Pizano's is only one of the amazing places that you'll see how the pizza is made and get a slice of heavenly pizza. Really, this one is a can't miss if you love pizza.
So, if this is the view that drew you to Chicago, then take the time to appreciate it. The sports are great, the shopping is magnificent, and the museums are some of the best in the world; it's the view that puts the city over the top. It's the food that makes you remember not only how it looked, but how it smelled. Take the time to look at her buildings and taste her most famous food. Then, and only then have you truly experienced Chicago.
http://

www.chicagotraveler.com/
Chicago is one of those places that will stay with you for a lifetime. I was blessed to grow up near such a wonderful place.
Enjoy!