I don't gush about little towns much, but there's this place in France called Eze. I saw this on TV years ago, and I've never lost interest in this place. It's a tiny medieval town not far from Nice on the French Riviera. I have to give them an A+ for location.
Eze has been around for hundreds of years. This place has been home to Moors, Christian Crusaders, and it's even belonged to Genoa before. Now it is a tourist attraction, but I have to mention it, because its a really good one. The buildings here look like they've all been carved out of caves. They may have been, for all I know. There are castle ruins on the tippy top of the town, and beautiful churches to look at that come from medieval times. The streets are all still made of stone, and there is no room for cars. You must park outside the village to come in. There are very few residents in this tiny village. Most of what you see are shops and restaurants, with some top of the line perfumeries and a fabulous hotel called Chateau Eze. The view from the hotel alone is worth the trip.
The beautiful little village sits near Nice and Monaco on the coast of France. The area was once ruled by the King of Monaco. There are many activities in the area that are coastal related like boating and the beach. But there are also some unique things that they do around Eze. There is paragliding, and spelunking in the caves below the village.
You will have to go to a tour agency to do these things, but what other time in your life will you paraglide off of a 427 foot high cliff over the French Riviera? I think it's worth it.
The little cave like shops and restaurants are amazing to look at, much less to visit and shop in.
Even though the merchandise isn't hundreds of years old, the shops look like they are. The streets are so narrow, you have to walk.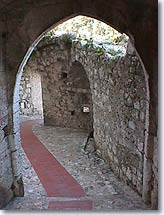 Not far from the castle ruins is a wonderful botanic garden which would remind most people of something that they would see in Arizona. It sits high atop a cliff with cactus and a fabulous view of the Mediterranean. I can't stress how great the view is from this little village.
So, if you want to get a little out of the way while wandering the French Riviera, Eze is a great spot for that. I do recommend that you don't go there in the high summer season. The off seasons of Spring and Fall are the best and least crowded times to go. The main thing is, if you love something kitchy, you like history, and you love a good view--go to Eze. Let the people of the locals shops, restaurants and hotels treat you like royalty, and relax, stroll and enjoy the view without the interference of cars, buses, taxis, trains, planes, or boats. Take a glide, climb a cliff, play some golf, or check out the caves below the 427 foot high village. Just remember, you know it's worth it when your view before you go to bed looks like this:
Enough said. Buy a ticket to Nice and rent a car to drive to Eze.
http://www.provenceweb.fr/e/alpmarit/eze/eze.htm
http://www.eze-riviera.com/village/accueil_village.html
http://www.slh.com/destinations/europe/france/eze-village/chateau-eza-hotel/?refcd=MS9828136994b_chXFteau_eza_france&tsacr=MS1151250770&utm_source=bing&utm_medium=cpc&utm_campaign=hotel_names_-_country&utm_term=ch%C3%A2teau_eza_-_france
http://www.eze-riviera.com/infos/ang/welcome.html
http://www.france-travel-secrets.com/eze-france.html
http://www.telegraph.co.uk/travel/destinations/europe/5006850/Eze-France-The-perfect-break.html
http://www.cafepress.com/artisticcreationsbyninakindred1
http://pixels.com/profiles/terri-dixon.html
http://www.zazzle.com/imagings
Enjoy!