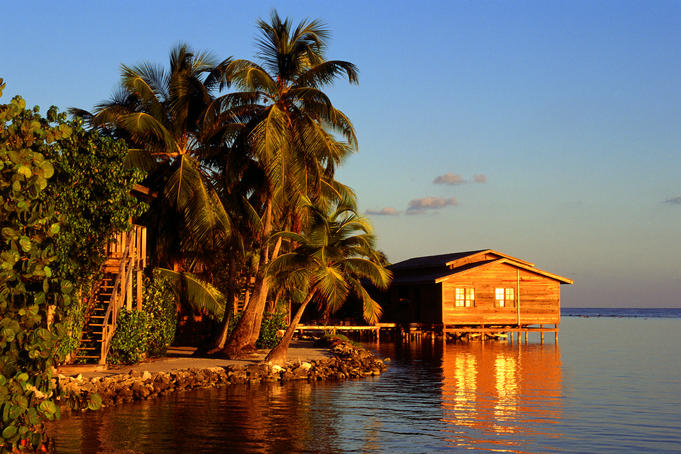 Isn't this beautiful? This is Roatan, one of the islands of Honduras. This is an island that boasts being one of the best dive spots in the world. There are tons of guides and businesses that will help you go diving on this wonderful little island. There are several wonderful resort hotels, such as Palmetto Bay and Infinity Bay.
The island of Roatan is only three miles wide and is the top of an undersea mountainous coral reef like environment. The water is crystal clear, the wildlife is amazing to look at under the water, the coral is beautiful and vibrant, and the water runs deep for plenty of fun and investigation.
Diving can be done for under $100 dollars a day if you know what you're doing and where to get all the best deals.
But, why am I writing one of my blogs about something that would take a lot of training to do? Scuba at this level takes a lot of training and experience. Do I recommend it? Sure I do, because it's a fabulous way to look at the world underneath us, which is just as amazing as looking at space. Is it something that I focus on for my blog? No.
Here's the thing that anyone should try when visiting Roatan. They have a unique experience, one that can only happen there. They have a submarine that you can go in. I don't mean one of the tourist subs that Hawaii, a lot of the rest of the Caribbean and Mallorca have invested in to take tourists out and show them Nemo swimming around a reef or looking at ship wrecks.
This is Idabel. She's got room for two passengers plus the captain to ride, and she goes theoretically to 3,000 feet deep. So far, the deepest that she's gone is reportedly 2,660 feet, but she's a safe ride. Karl Stanley, Captain extraordinaire, helped design and build this fabulous underwater vessel, and he takes tourists on the ride of a lifetime to fund his underwater research. There are a few different dives that can be purchased. The perk here is that not only do you get to go in a submarine, but you get to dive deep enough that the subs lights need to be used to see the deep water creatures that live in the dark recesses of the ocean. It's not the usual trip, folks. You get to do what the researchers do. You get to see things that most other people will never get to see.
All of this, and so much more awaits you under the sea. There are excursions available that go as deep as 2,000 feet. There's really no where else on Earth that you can get that close up a view of the actual deep sea world as a tourist. I can't believe that it's been kept so quiet. It's definitely something that anyone can do and everyone should.
So, if you happen to find yourself in picturesque Roatan off the coast of Honduras, don't forget to check out the Roatan Institute of Deep Sea Exploration, and take part in researching the world undersea that we still know way too little about. Captain Karl will be happy to introduce you to his world.
So, wanna get away? This is the view that will be only the beginning of your undersea adventure. Even if you are a diver, you'll want to go even deeper in Idabel, and see what you haven't been able to in a dive suit. You only live once. Do it right.
http://www.stanleysubmarines.com/
http://www.jaunted.com/story/2008/10/21/11359/481/travel/Roatan%27s+Only+Homemade+Submarine+in+Limbo
http://www.roatanresorts.com/
http://travel-to-honduras.com/
http://www.lonelyplanet.com/honduras/bay-islands/roatan
http://sidewalkmystic.com/Roatan-Diving.htm
http://www.cafepress.com/artisticcreationsbyninakindred1
http://www.zazzle.com/imagings
http://pixels.com/profiles/terri-dixon.html
Enjoy!