Isn't that beautiful? Now, I've been to Michigan a hundred times in my life, and I've seen some wonderful things. I love the dunes that run along Lake Michigan's shores. I love little burgs like Saugatuck and Holland. If you like Christmas, you have to go to Frankenmuth.
Greenfield Village and the Henry Ford Museum are terrific. I even like Hell. But, if you go far enough north, you will find things that you never knew about Michigan.
This is the Mackinaw Bridge. It leads to the Upper Peninsula of Michigan. You can find it on a map. It's not hard. The bridge is a 5 mile long piece of amazing construction with views of the area that you won't get any other way. But, why would you be in the area in the first place? Interesting question.
This is Mackinaw Island State Park. It's an island. It's a park. What is so unusual? Let me show you.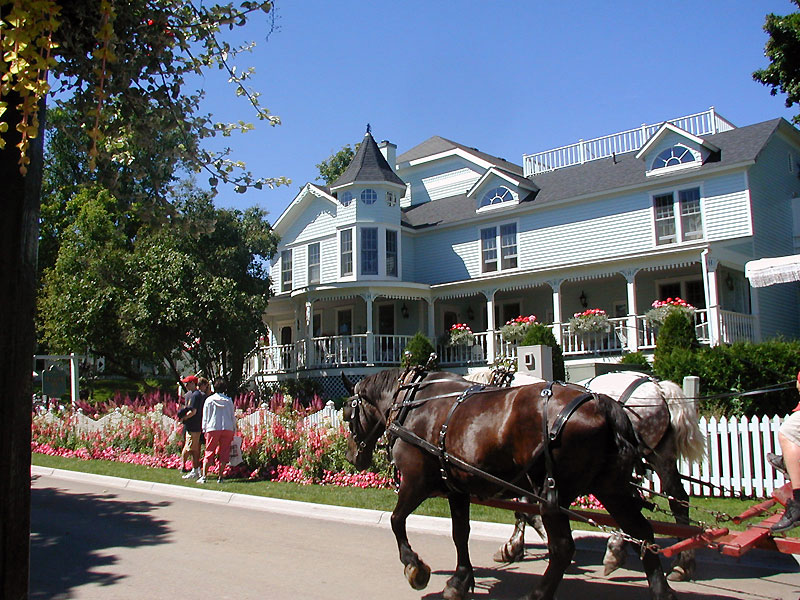 Life is a little different on Mackinaw. There are no cars. There are no buses. There are no vehicles powered by engines. That's right, it's a step back in time. The whole island is that way. You can get around by horse and carriage, or you can rent a bicycle. If you ever wanted to get away, this is your spot.
Now, while on Mackinaw you will learn about history. The people in the historic village will show you how they lived back in their time. You will see how they sew, cook, garden, and tend to animals. If you're lucky, they'll teach you some old time dancing.
While visiting the island you can visit Fort Mackinac and see what it was like to operate a very sought after military outpost over 100 years ago. The British established the fort and during wartime the Americans took it over, landing it on Michigan's shores for all eternity. Workers dress in period garb and do period activities to show what life was like in this fortress.
There are many beautiful sights to see, both natural and man made on Mackinaw. You can go horseback riding, hike to beautiful vistas, see the old lighthouse that still works today, visit the fort where the kids will find plenty to do, and watch demonstrations of how life used to be.
There's plenty of dining and shopping too.
The island sits in the shadow of the Mackinaw Bridge at the entrance to Michigan's Upper Peninsula. It's a great place to visit. It's not like the other villages that are made to interest tourists. There are never cars permitted on this island. The entire island is a park dedicated to preserving the past. This is different. This is all encompassing and really gives you the feel of stepping back in time. Take the trip, and be Dr. Who for just a day or two. You'll really enjoy it.
Now, I have to mention another thing while I have you in the area. That is Sault Ste. Marie. This is the border to Canada where the rest of the Great Lakes come together. Located on Lakes Superior and Huron, this city is home to the Soo Locks which were designed to bring together the Great Lakes for shipping.
The Soo Locks are every bit as fascinating as the Panama Canal only on a much smaller scale. They are still in use today, and there are several viewing points where you can watch and take pictures of the ships coming through. Now, if that doesn't satisfy your reasoning for driving all the way up there, then you can take a boat tour and go through some of the locks yourself.
The Soo Locks Boat Tours will take you on a trip that will let you see first hand what it feels like to travel through the locks and it will allow you to see exactly how it all works. I recommend experiences like these, because it seems droll and boring, but you'll find out that when you are doing it yourself, it's quite exciting and you'll feel like an explorer on your way across the new world.
There are many things to see in Sault Ste Marie while your there.
Brady Park and the Tower of History are two spots to visit where the view is great. The Tower is something that you can go up in and get a great panoramic view of the town. There are also casinos in town for the gamblers in the crowd and museums, including a site dedicated to the Edmund Fitzgerald.
But, Sault Ste Marie has one more wonderful attraction that you won't want to miss.
This is the Agawa Canyon Railway that takes passengers 114 miles into the wilds of Ontario outside of Sault Ste Marie. This train is another view into the past and is loads of fun.
You can see some of Southern Canada's best landscapes as you travel on this unique train that takes you down into Agawa Canyon, over 500 feet down, and lets you explore Canyon Park while they wait to take you back later in the day.
The views are amazing there, especially in the Fall.
So, if you've never been to the northern most points of Michigan's mitten, then you don't know what you're missing. Take the time to step back in time with old time lifestyles, old time locks, giant bridges, and antique trains. Take the time, enjoy the view, meet the people and take home memories that you can't get anywhere else.
http://agawacanyontourtrain.com/index.html
http://www.mackinacparks.com/
http://www.soolocks.com/index.phtml
http://bikemackinac.com/tours.html
http://www.mict.com/index.aspx
http://www.cindysridingstable.com/index.htm
http://www.mackinacbridge.org/
http://www.saultstemarie.com/
http://www.cafepress.com/artisticcreationsbyninakindred1
http://pixels.com/profiles/terri-dixon.html
http://www.zazzle.com/imagings
Enjoy!