Monasteries and Convents are being turned into boutique hotels in Rome. Beautiful, right? Well, why not stay in the real thing. That's right, take your Rome experience to the hilt. Stay in a monastery or a convent. There are around 200 of them right in the Rome area and most of them rent out rooms.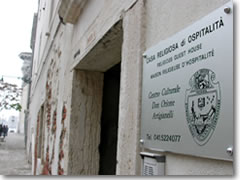 Why would you do such a thing? What if you're not Catholic? Doesn't matter. You, my friends are supposed to be travelers. travelers like to get involved in the places that they visit, and there's no more Catholic place on Earth than Rome, so go see how it all works. It's not enough to just see the places. I'm a believer in going there to understand things--understand the people.
There is so much beauty in Rome. There is so much history to explore. If you stay in a convent or monastery and meet the nuns and monks, you will have a view of the place that few are ever going to have. Looking at Rome through the eyes of the deeply devoted is like being in an art gallery when one of the artists shows up. It's a unique view of the world around you at the time. Embrace it.
Imagine, being able to go and ask someone about something that you've seen or are going to see in the city, and they can tell you exactly how to appreciate it. Imagine, being able to take some quiet time and get in touch with your spiritual side when you return from a day of sight seeing. Imagine, getting to know your hosts and hostesses and how they live and why. You will never forget it. That is why you should stay in a convent or a monastery, particularly in Rome.
The rooms tend to be simple in these locations. Sometimes you may share a bath. There may be a curfew or a quiet time. But, you also may be able to eat in the dining room with your hosts, you may be able to attend mass with them, and you may just learn something special that you will remember for the rest of your life. The beauty will stick in your mind.
And so might the faces and names of those who have shared their lives with you for a short time.
So, come to Rome. See the sights. Go and ask your new friends at the convent or monastery about them. Learn what they really are. Learn what they mean to those who follow the faith that's made the city what it is today. Be part of your vacation, don't just look at it.
http://www.ehow.com/how_2127011_stay-monastery.html
http://www.aviewtoathrill.net/2011/01/16/monasteries-and-convents-unconventional-lodging-at-its-best/
http://www.reidsguides.com/t_h/t_h_convents.html
http://www.goodnightandgodbless.com/
http://www.brigidine.org/brigidineorg/default.aspx?idt=145
http://www.monasterystays.com/?a=search#type=region&id=21&arrive=2012-10-19&depart=2012-10-26&people=1&venue=VEC113
http://www.go-to-italy.com/English/Religious.htm
http://italytravelista.com/where-to-stay-in-rome-convent-and-monastery-accommodation-in-rome-travel-to-italy/
http://www.cafepress.com/artisticcreationsbyninakindred1
http://pixels.com/profiles/terri-dixon.html
http://www.zazzle.com/imagings
Also, look to a book that I found called "Good Night and God Bless." It's a guide to this kind of unusual accommodation. It tells you the details about how to find it, book it and do it.
And, be aware that you can book stays in monasteries and convents around the world. Also, you can stay in Buddhist monasteries as well.
Enjoy!