It's called Tiger Leaping Gorge in the Yunnan Province of China. Now, with all the constant troubles in Tibet, this may be about as close as you can get to that. That's for the massive height and impressiveness of this place. The reality is that it's frighteningly close to Myanmar/Burma, depending on what school of belief you go with on that one.
Lijiang is the main metropolis close to Tiger Leaping Gorge.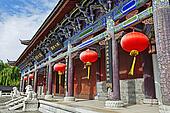 The area has everything to see if you're looking for old world charm. The temples, the gardens, the tiny streets and friendly people.
But, it's outside of town that the adventure begins and you get to see Mother Nature in her natural splendor.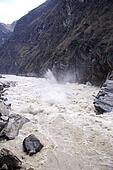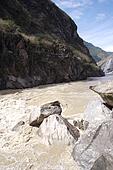 This is Tiger Leaping Gorge. It's nearly 20 miles of tiny roads and hiking trails. You can hike along the water or from amazing vantage points up above. There are many tour companies that will be happy to take you on a guided driving and/or walking tour of this magnificent area.
Now, if you like a good trek, take a few days and do this. The scenery is a one of a kind. This gorge is thousands of feet deep at its deepest point. This is so dramatic that entire books have been written about it. It is a remote area, and there are no large cities in the midst of this trek, but you will find wonderful little guesthouses along the way.
And you'll meet some interesting guides and characters along the way.
So, if you ever wanted to see the Yangtze River up close and personal, here's your big chance. Now, you can drive, take a bus or hike. You can also get a guide who will help you or take a tour. The one thing that you cannot do is go by water. Be well aware that the river in this massive gorge is to treacherous to navigate. That is non-negotiable. The Chinese government keeps a very close eye on tourism in their country. This is another area that has only been open to outsiders for a decade or so. It is also close to Myanmar, so make sure you don't take any wrong turns if you drive in the area. Americans are not welcome in Myanmar without a lot of advance notice and strict visas.
What an incredible walk. Take the time to get there. Take the time to do it. Look at something so big and impressive that you'll never forget it. Check out Yunnan Province, Lijiang, and Tiger Leaping Gorge. It's the adventure of a lifetime.
Enjoy!
http://chinabackpacker.info/dest/d35.html
http://www.travelblog.org/Asia/China/Yunnan/Tiger-Leaping-Gorge/blog-747244.html
http://www.tigerleapinggorge.com/
http://www.travelchinaguide.com/attraction/yunnan/lijiang/tiger.htm
http://www.chinahighlights.com/lijiang/attraction/tiger-leaping-gorge.htm
http://www.chinaodysseytours.com/yunnan/tiger-leaping-gorge.html
http://www.chinatourguide.com/tigerleapinggorge/index.html
http://www.intrepidtravel.com/china/tiger-leaping-gorge-49451
http://www.gracechinatours.com/china-tours/GCT-HK-002.html
http://www.cafepress.com/artisticcreationsbyninakindred1
http://www.zazzle.com/imagings
http://pixels.com/profiles/terri-dixon.html
Remember, China is full of legend a folklore. There is a rock in the middle of the gorge that is said to have given the place it's name. Legend has it that a tiger leapt from the rock to escape from hunters. It's the narrowest place in the river gorge and no human could make the leap, leaving the tiger to be the only one who's ever been able to leap across the river in the gorge.
Enjoy!