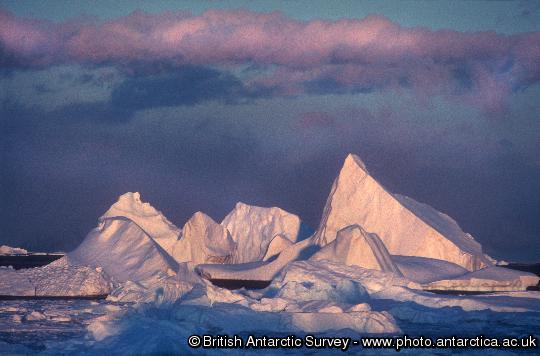 This is not your average pile of ice and snow. This is Adelaide Island at the continent of Antarctica. In the winter time you can visit this harsh, freezing cold and beautifully amazing land for a very short time. The tourist season in Antarctica only lasts a couple of months, and it's so far off the beaten path that there are only so many ways to go there. Book Early, and book smart. There are more and more companies braving the weather and heading to the ultimate southern destination, so you can cruise on any number of kinds of ships, and you can even do a fly over from Australia.
Here's my idea. This is the Kapitan Khlebnikov. This huge ship is a Russian Nuclear Icebreaker from the 1980's. This ship means business. There is no chance that you won't be able to get through the ice to see what you wish to see in Antarctica. And, it's an adventure.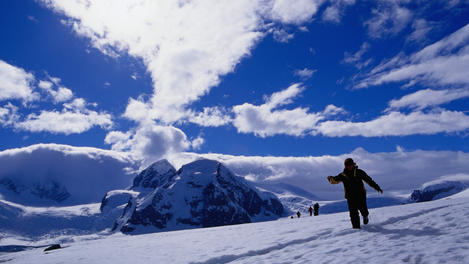 The landscape of Antarctica is something that will seem otherworldly to you. It will seem like you've landed on Saturn in a frozen world that is so foreign, that even when you're prepared, you're not. There are several areas now where cruise ships go. There's Snow Island, the Ross Sea, the Western Peninsula, Goudier Island and Port Lockroy, and so many others that are now open to visitors.
The Kapitan Khlebnikov has gone to pretty much all locations in Antarctica. They've been doing it since the mid 1990's. You might ask yourself why you would ride an icebreaker other than the practical aspects of getting to your destination. Well, a while back I recommended riding on a container ship for the experience of it. This is a lot like that. But don't think that it will be bare bones travel.
It's a pretty classy ride. This ship has been outfitted with two dining rooms, a lounge, a theater, a heated swimming pool (indoor of course), a sauna, a library and more. All the comforts are there in the middle of the Antarctic Ocean. Imagine that. There are also activities. There's a helicopter to fly you off to land excursions such as visiting a research station or visiting with penguins. You can also go sea kayaking around the shore where all the icebergs are. A trip to Antarctica is unique in the first place. To go on a Russian Icebreaker is the icing on that cake. The crew on this ship is knowledgeable. This ship was the very first one to offer a cruise to tourists back in the 1990's. Remember, the idea of going to Antarctica as a tourist on a cruise ship is only about 20 years old. It's still new and interesting. It's still remote and undisturbed.
Remember, things are a little different in Antarctica. Take the dining hall for instance at South Pole Station. It's not the Tavern on the Green. This is pretty basic, but it's far more advanced than it was just 20 years ago.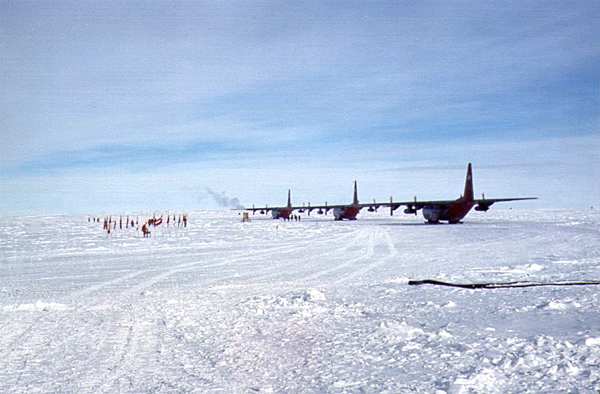 Also, remember before you get yourself in a tail spin about going to the South Pole, remember, this picture here is of summertime. It's a hostile environment down there, but it's fascinating. It's not for the weak or for the person who wants to live in Florida or Arizona. It's cold, just above freezing with 24 hour sunlight. It is an adventure though, and isn't that what life is all about?
Why go there? You will simply see things that you will see no where else. This picture is just of the clouds in Antarctica. Those beautifully multi colored images are just clouds. Nowhere else on Earth.
So, the season is coming. There are a dozen or more ways that you can go and visit this amazing land these days. Take the time to see things that only a few people when you think about it have seen. It's wild and untamed and becoming more and more touristy all the time. See it before it looks like Vegas down there. The clock is ticking on this one. Pretty soon they'll have a Wynn resort and an Indian casino. Get there while it's still unspoiled and really special. Get there while the main transport is still dog sled and snow machine.
Oh yeah, and take an icebreaker for a truly unique experience.
http://www.coolantarctica.com/gallery/Antarctica_gallery_home.htm
http://www.antarctica.ac.uk/living_and_working/virtual/travel/lockroy.php
http://www.slideshare.net/marioricca/port-lockroy-antarctica
http://ukaht.org/peninsula/port-lockroy
http://www.fesco.ru/en/assets/fleet-fesco/vessels/icebreakers/kapitan-khlebnikov/
http://www.globalcruiseship.com/ship/na/Kapitan-Khlebnikov.html
http://www.quarkexpeditions.com/antarctic-expeditions
http://www.tauck.com/tours/antarctica-tours/antarctica-cruise-xr-2013.aspx
http://www.expeditiontrips.com/antarctica-cruise.asp?source=msn3
http://www.lonelyplanet.com/antarctica
http://www.southpolestation.com/
http://www.nsf.gov/od/opp/support/southp.jsp
http://quest.nasa.gov/antarctica/background/NSF/sp-stay.html
http://www.cafepress.com/artisticcreationsbyninakindred1
http://www.zazzle.com/imagings
http://pixels.com/profiles/terri-dixon.html
Now, pack your favorite parka, get some Bunny Boots and go explore the most southern spot on Earth!
Enjoy!