Somewhere in the land of the Aurora Borealis in the Laplands of Sweden where the Sami people live, there's a little something that you may not expect to see.
The ice hotel above the Arctic Circle in the Lapland of Sweden has been around for over twenty years--well in the winter. In the beginning, it was quite a journey to get there. Nowadays, you can fly with Scandinavian Airlines and practically land right on it's doorstep.
This is a once in a lifetime chance to do something unbelievable. You can stay the night in a hotel made entirely of ice. You can also eat, drink and get married there if you like.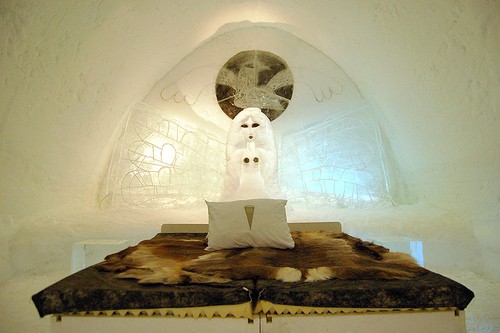 The rooms are beautiful and filled with furs to keep you warm at night. There are designer rooms every year. This year, I hear that there is a Tron room. Sounds pretty cool.
But, in reality, should you fly all the way out to the land of the Sami People just to freeze your butt off and say that you've stayed at the original Ice Hotel? No.
There are plenty of activities for the traveler out there. First off, you can go and visit the Sami People in their world. They'll show you how they live and cook you a meal. It's a great case of culture shock and a great way to learn about ancient peoples from other parts of the world. Make sure that if you do it, you aren't a little freaked out by reindeer, because the Sami People are reindeer herders.
You can also go dog sledding, horseback riding, snow machine riding, snow shoeing, and skiing. At every turn in the wilderness, you might see a reindeer or a moose. It is remote and there are wild animals out there, so be careful.
If you shiver at the idea of staying the night in the Ice Hotel, there are other hotels in the area where you can be warm and enjoy all the modern conveniences that you've come to expect from a great vacation.
Oh yeah, did I mention ice driving? There are instructors that will teach you how to drive a Mini Cooper on ice and drive it on an ice track. That's pretty cool for you car enthusiasts. This is a truly unique experience. That means you should really do it.
So, if you've ever wondered what it's like up north in the winter, come to Sweden and see the best of it. Winter runs from December through April here, so you have plenty of time.
And if you get tired of sled dogs, Mini Coopers, and drinking your drink out of a cup made of ice, just remember to look for the amazing Northern Lights.
http://www.icehotel.com/uk/Magazine/Articles/ICEHOTEL/yngve-bergqvist/
http://www.icehotel.com/uk/What-to-do/Ice-driving/
http://www.icehotel.com/
http://www.icehotel.com/uk/ICEHOTEL-loves-Copenhagen/Icehotel-loves-Copenhagen/#icehotel-loves-copenhagen
http://www.flysas.com/en/us/?vst=true
http://book.icehotel.com/en/event/a395027/vuojan-reindeer-sled-excursion/showdetails?filter=c%3D21294%2C21668
http://www.nordicway.com/search/Sami.htm
http://www.scandinavianpackages.com/icehotel.html
http://www.cafepress.com/artisticcreationsbyninakindred1
http://pixels.com/profiles/terri-dixon.html
http://www.zazzle.com/imagings
Enjoy!