Some places just beg to be visited. Some of them you visit because of the beauty. Some you visit because of the fun or the activities. Some you visit because of historical significance. Some places you simply visit because you have to see it. I think that best describes Namibia's Skeleton Coast.
Historically, the Skeleton Coast covered hundreds of miles of Namibia's extraordinary desert coast, but now it's largely been contained inside a National Park. You can enter the park through the frightening looking skeleton gates, but that's not going to allow you to go to the best parts.
This is one of those rare occasions where I will tell you to book a safari with a recognized tour company who has access to the restricted areas of the Skeleton Coast. It's the best way to see what you really want to see.
That said, let me tell you that the rest will be an adventure. The best and only way to get to see all of the shipwrecks along the coast, is to fly in and out in small planes with guides. These trips are so sophisticated that they come with picnic lunches and specially outfitted Land Rovers with drivers who know where vehicles are allowed to drive. All you have to do is go along for the ride and bring your camera. This place is one giant photo op.
It's not just the desert that makes this place so treacherous for ships. The Benguela Current flows in the area, and brings cold water from the Atlantic to the shores of the Namibian Coast here, making fog, and in effect, causing shipwrecks. There are many stories about seafaring men who ran ashore and spent days looking for life in the desert. It's a scary combination of desert and crushing currents offshore.
The land along the Skeleton Coast is full of shipwrecks and whale bones. Reportedly, there are also some human bones wasting away in the sand of long ago tragedies never solved.
Namibia's desert is a fascinating place to visit. As usual, I wouldn't tell you to go all the way to the most remote shoreline of Africa just to see some rotting old ships, fascinating though they are.
Cape Fur Seals inhabit the coastline, and even set up house inside the wrecked ships. It's nature's way of making use of a tragedy, I suppose. The seals fish directly off shore and sun themselves on the beach. There are hundreds of seals in the colonies and they are quite something to see.
When you safari to the Skeleton Coast, you will most likely stay at a camp. These camps are quite civilized, and you will find that you are as comfortable in one of these camps as you would be in a hotel. They have wonderful meals and comfortable shower facilities. The beds aren't bad either.
But you can go to more than one came and see more than one area while you are in Namibia.
Do you like dunes? Along the coast of Namibia, you have some whoppers. There are the
Sossusvlei
Dunes which are possibly the highest in the world. They are surreal and glow red. When on a safari, guides will drive you around them in Land Rovers and walk to the top of some if you wish. The sand looks soft, but in many places it is walkable.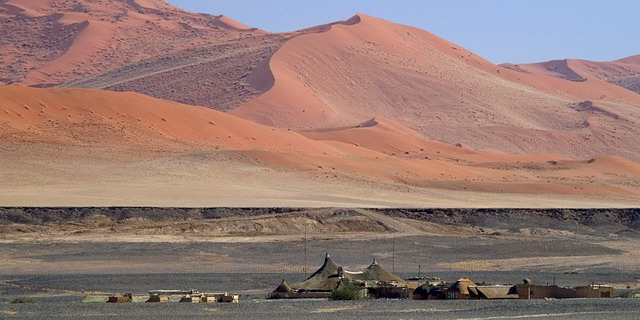 There are also the Roaring Dunes. These babies are very red, and there's reason. They're largely garnets. Part of the sand along the Skeleton Coast is made of semiprecious gemstones, ground into sand. It gives it a particularly shiny and colorful appearance, and the structure of these dunes makes them vibrate in a way that makes it seem as though they are roaring as you go down them. It's an amazingly odd experience, that you won't want to miss.
If you go on a safari with a tour company, you will most likely get an opportunity to visit local tribes such as the Himba. These are a nomadic people who have lived along the edges of the desert for centuries. You will have a chance to meet them and see a little bit of their lifestyle.
And then there are the animals. There are desert elephants here, who have adapted to this harsh terrain and live here quite comfortably. You will also see Hyenas, Zebras, Turtles, many birds and so much more, including the seals. The wildlife abounds in the harsh place, which is amazing, but there are a great variety of animals in the Western Namib Desert lands.
You will have the opportunity to take a boat on the Kunene River and see clay castles on the hilltops and Crocodiles in the water. Once again, the camps will keep you comfortable and well fed.
This is a multi faceted adventure, and you will find something interesting and fascinating at every turn. There are caves with archaic drawings in them. There are oases, and canyons, and gemstones, and shipwrecks. The Skeleton Coast and the surrounding area have something for anyone. The best part is that you can go and still have a comfortable vacation. It's certainly something that will give you impressions that you've never gotten anywhere else. It will give you a new perspective on the rest of the world.
The world is old in Namibia, whether it be the old rotting ships in the sand, or the pipe-like rocks leftover from the volcanic times, or the dunes that rise unbelievably high against the coast. Traditions are old here, just like everything else, and you should experience it before the conservationists decide to restrict it even more. Make a reservation, and let someone else do the thinking on this one. Just go along for the ride.
http://members.virtualtourist.com/m/83d91/f11/
http://www.opulentafrica.com/holidays/skeleton_coast_national_park.html?utm_source=bing&utm_medium=cpc&utm_term=skeleton%20coast&utm_campaign=Skeleton%2BCoast
http://www.namibian.org/travel/namibia/skeleton.htm
http://www.skeletoncoastsafaris.com/safaris.htm
http://www.goodsafariguide.net/skeletoncoastsafaris/
http://www.go2africa.com/location/7253/why-go
http://www.tshokwanesafaris.com/namibia/safari-tours/skeleton-coast-safaris/
http://www.namibweb.com/skeletonsaf.htm
http://www.africaexclusivesafaris.com/namibia/skeleton-coast
http://www.thesafaricompany.co.za/The_Skeleton_Coast_Safari.htm
http://www.tamba-africa.co.za/nmb_skeleton.html
http://www.voyagetrek.com/Travel/Tours/Namibia?tfa_SpecialFormNotes=Bing+Yahoo-Search&tfa_SpecialNotes2=Skeleton%20Coast%20safari
http://www.africanodysseysafaris.com/safaris/namibia/the-skeleton-coast/
http://www.african-tribes.org/himba-people.html
http://www.cafepress.com/artisticcreationsbyninakindred1
http://pixels.com/profiles/terri-dixon.html
http://www.zazzle.com/imagings
Enjoy!