It's old world meets new world. It's nature meets civilization. It's where water meets the ocean. This is Madeira. I was attracted to this location just because of the Lava Pools of Porto Moniz. These are amazing. They are naturally formed by volcanoes, right next to the ocean. The locals have made them into natural swimming pools.
These massive pools are accentuated with ladders, Roman style steps, and partial containment walls to guard the massive surf from the Atlantic Ocean on the outside. This is a swimming destination like you've never seen before. They may be closed due to harsh surf in the dead of winter, but due to the island's sub tropical climate, they are open most of the year. They are a scenic and peaceful place to take a dip. They are the only place quite like this in the world. Make sure that you and your family are safe when swimming here though. Just because it's a monitored and maintained place, doesn't mean that there aren't safety hazards. If your children can't swim, be very careful taking them into any natural pool. The floors remain natural and therefore uneven. That can be a hazard to little ones that don't really swim. There are lifeguards at the pools for the public safety. They do have operating hours, and charge a small fee for entry, so check the current details before you go.
Now, the lava pools were great. To me it was reason enough to visit Madeira. Then I heard about the cable cars. The most famous one is from Funchal to Monte. It goes from one town to another, because it's easier than a train or a car. I'm not joking. The mountain that separates these two towns is steep, so they built a cable car. The result was a great tourist attraction that has incredible views of a good portion of the coast of the island. It's amazing. Once again, a great view is reason enough to visit a locale, but there was more.
The Monte Palace Gardens are some of the most amazing gardens I have ever seen. There are water gardens, Asian gardens, bird sanctuaries, Orchid gardens, and tailored gardens of all kinds including some that showcase the enormous variety of local plants and trees. You could easily spend all day here, taking in the beauty of the place.
Now, Madeira is not a country. It's an island in the Atlantic, not far from Morocco. That may be a little vague, but just look at a map and figure it out. It's owned by Portugal. There's an old world nature about a lot of the island. This is something else that makes this a worthwhile trip. There are beautiful old world looking towns all over the island. There are wineries in the hills that make wine sought after the world over. There are wonderful traditions.
One such wonderful tradition is the Monte Toboggan Ride. What is it? Well, it's the quickest way to come back from Monte to Funchal. There are these traditionally dressed guys at the top in Monte. They wear white clothes. They have wicker toboggans that are made somewhat like sleighs. They will put you in that sleigh and run you down the hill to Funchal. I'm not kidding. It's one of the oldest traditional rides on the island, starting somewhere in the mid 1800's. The ride lasts about 10 minutes until you get to a suburb of Funchal on the bottom. The sleighs can go up to 48 km per hour. It's a thrill and a great ride in the old world.
Now, Madeira has many wonderful things to offer. There is a model of the Santa Maria that you can take a cruise on. They have a theme park and a water park for more traditional family fun. They have great shopping, beautiful architecture and a great fireworks display on New Year's Eve.
Another thing that they have in Madeira is the old north coast road. This thing goes from Sao Vicinte 16 km to Porto Moniz. The scenery is amazing. The cliffs are astounding. The tunnels are really something to behold. It's a great way to spend some time in the afternoon, and you can top it off with a swim when you get to Porto Moniz.
Is that enough? Well, there's something else. In the old days, they had to figure out how to get fresh water to the growing coastal towns. The solution was to make a canal or Levada to let the water meander its way down from the mountains to the towns along the coast.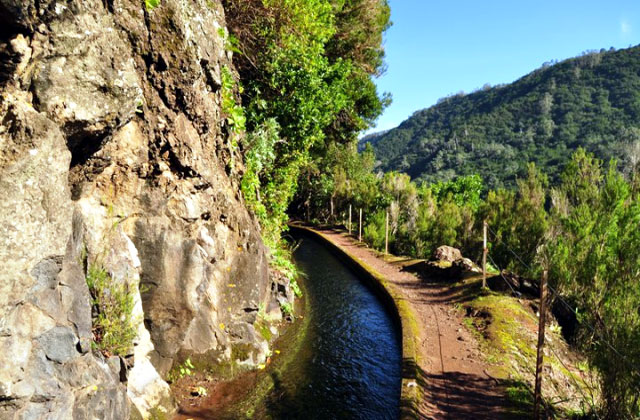 Now, you can go for a trek along them. There are several tour companies that will help you plan your walk along some or all of the 2500 km of Levadas. They have been around since the 1600's and they have tremendous views. It's an amazing way to spend your walking in nature time.
So, let me just say that if you like the old world with a twist, you'll love Madeira. It has everything and something for everyone. It's got great Portuguese food too. Beat that. So, if you think that you would like to drive along a coastal cliff drive, see great mountain views from a cable car or while hiking along a Levada, if you would like to swim in a pool created by volcanoes, or go screaming down a mountain on a toboggan after walking amazing gardens, then this place is for you. It seems as though it would be a million miles away, but it's just in the Atlantic Ocean not far from southern Europe. It's something truly exotic that's not that far away.
There are some things that you should know. Like the Azores, you will probably want to allow the time to fly through Portugal on layover to get there. It's way cheaper. Also, it does get cooler in the winter months even though it is still warm by most standards. This means that there are short periods where the pools and some other attractions may not be open. Be prepared to wrestle with the language. English is not so widely spoken there and Portuguese is the native tongue. However, there is barely any crime on this tiny island, and the people are old world friendly.
Take a chance on a small island, take a step back into the old world.
http://www.seadestination.com/the-lava-pools-of-porto-moniz-madeira-island-portugal/
http://www.iknow-portugal.co.uk/tourist_information/madeira_azores/funchal/funchal_cable_car.htm
http://www.madeira24.com/english/activities/cable_cars/cable_cars.htm
http://www.love-madeira.com/monte-toboggan-madeira.php
http://www.madeira-web.com/PagesUK/index.html
http://www.lido-tours.com/en/walks.html
http://www.madeira-tours.info/
http://www.madeira-a-z.com/madeira-holiday-guide.html
http://www.madeiraguide.co.uk/coastroad.shtml
http://www.madeirarural.com/council-area-monte/
http://www.madeiratours.co.uk/
http://www.madeirahappytours.com/
http://www.madeiralodgings.com/
http://www.cafepress.com/artisticcreationsbyninakindred1
http://pixels.com/profiles/terri-dixon.html
http://www.zazzle.com/imagings
Enjoy!