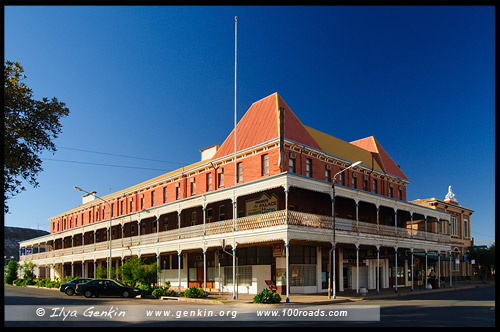 It's an iconic image. It looks like any of thousands of small towns across the heartland of America. I grew up in one that had scenery just like this. It's not unusual. But, if you've ever wondered what it's really like to make a life in Australia's outback, you might want to check this out. This is Broken Hill, held by many as the capital of the outback. It looks pretty common, but it's a little different than most small towns.
Here's the thing that I've learned fast. The outback of Australia does things they're own way. Where I live, they would be considered eccentric at best. But as a traveler, I love these places. Broken Hill is home to many things that you won't see much anywhere else. You can stay in a regular hotel and eat at great restaurants, and drive on paved roads there. It's not as outback as some spots. It's that the atmosphere is different. There's so many things to check out.
You can fly to Broken Hill from most cities in that region of Australia, but it's what you can see at the airport that's different.
The Royal Flying Doctor Service of Australia has a major hub in Broken Hill. These are the outback doctors, baby. They cover thousands of miles of outback with fly in medical services. Bruce Langford Visitor's Centre at the Broken Hill Airport is where you can learn about this amazing service that helps patients in up to %80 of the country. There is also a museum there that tells you the history of this amazing service.
At the Broken Hill Visitor Center you can learn about School of the Air. This is an internet system to help teach children over an area of 1 million square kilometers. There are less than 100 children in the area, and this system is designed to reach them all. You can sit in on a class and see how it works if you like.
But, just because Broken Hill and the surrounding area over 1,000 miles from Sydney, is remote, doesn't mean that they're lacking in culture. There are many art galleries in the area from the massive sandstone sculpture garden just outside of town to the world's largest acrylic painting on canvas. There's even a place where you can get money that's been made into jewelry.
The area is full of galleries as well as museums of all kinds. The area is known for it's mining history, whether it be opals, lead, zinc, or silver. There are a few mines that you can tour and see how they extracted these minerals and gemstones from the ground.
Now, why did I mention Broken Hill? Of course it's unique and gets you out of the city, like I'm always preaching for travelers to do. However, just up the road a piece from Broken Hill and all it's civility, even though there are more sheep roaming around there than people, is Silverton.
Silverton might look familiar. The Silverton Hotel might seem like de ja vu. The black rally car/muscle car/mutant car in front will probably look familiar. It certainly will to the movie buffs who will enjoy traveling to this area the most. This one is a movie lover's dream. If you've ever seen The Road Warrior, Madd Maxx II, that black car in front of the pub will look familiar. It was filmed here. The car was one of them used in the movie.
But that's not all. Over 50 movies have been in part, filmed here. The landscape lends itself to exotic settings and there aren't many people to get in the way. There are only about 50 people left living in Silverton. They virtually all were in the Road Warrior. The Silverton Hotel is really a pub, and has great hot dogs. It is a piece of living film history where you can sit down and enjoy it.
But, they have a list of all the movies that were filmed in the area. They even had Tom Cruise and crew come by to film parts of Mission Impossible II. If you wander around the area, you will find pieces of film history and old sets. It's all very interesting.
Mundi Mundi Lookout is a great vantage point just outside the ghost town, and this is where we all saw Mel Gibson staring off into infinity. It does double as a fabulous place to take photos of the landscape.
Now, if you haven't had enough Madd Maxx after looking over old sets, visiting the pub, checking out Mundi Mundi Lookout, and hearing the tales from the locals, there's a Madd Maxx museum. This place has a lot of the cars, costumes and other things representing the movie franchise. It's a monument to the movies, and a must see for anyone who ever enjoyed Madd Maxx.
There are many things of interest in and around Silverton, but even though there are trails around the reservoir, and there are mines like the Day Dream Mine to go down in, remember that it's still arid like a desert. Well, it is primarily desert. That's why a safari can be the best way to tool around the area.
A camel safari is something that you wouldn't really expect to encounter in Australia. It's not ingrained in our views of that country, but here they are. They take you on short tours of the area on the back of a camel. It's that something that you would almost expect to do in some parts of Africa or in the Middle East, but here it seems more exotic. It's a lot of fun and it just adds to the wonderful day that you can have in Silverton. There are also mines to tour, and shops to browse. It's a wonderful little ghost town that is really worth a look.
Can you stay here? Well, yes you can, but... There is a cottage for a single group. There is a hostel with minimal amenities. There is a campground that accommodates RV's. That's why I mentioned Broken Hill. That's where the day tours to Silverton run out of, and that's where the food and lodging really are. The easiest way to do it is to do that. I know that I should be saying that the experience is what it's all about, but you can go camping anywhere and stay in a hostel anywhere. It's not that singular experience that I often advocate. Do yourself a favor and stay in the city. Be comfortable and don't risk ruining a truly wonderful outback experience by delving too far into outback lifestyle. Remember, you're here for a look, not to join the community.
So come and check out the red landscape around Broken Hill, see an old silver mine, visit the sets of movies, and take a camel for a ride. It's an amazing area to visit. It's rustic to say the least. It still seems to signal a trek back in time in most places, even though in Broken Hill they are building brand new movies studios to accommodate all the commercials and movies that are filmed here.
The movie guys like it because it's remote and beautiful. You'll enjoy that about it too.
http://www.brokenhillaustralia.com.au/
http://www.australianexplorer.com/silverton.htm
http://www.smh.com.au/news/New-South-Wales/Silverton/2005/02/17/1108500198942.html
http://www.silverton.org.au/index.php
http://www.madmaxonline.com/museum/
http://www.aussiepubs.com.au/pubs/silverto/index.htm
http://www.hotels.com/
http://www.flyingdoctor.org.au/
http://www.silvercitytours.com.au/http://silvertoncamels.net/BRCS/BRCS.html
http://www.visitnsw.com/destinations/outback-nsw/broken-hill-area/silverton/tours
http://www.atn.com.au/nsw/west/west-a.htm
http://www.cafepress.com/artisticcreationsbyninakindred1
http://pixels.com/profiles/terri-dixon.html
http://www.zazzle.com/imagings
Enjoy!