I thought is was about time that I came back to the U.S. I do live here. I just prefer to do my traveling in the warmer months. I mean, you can go to Disney in the winter and take a cruise in the South and whatever, but that isn't the kind of thing that I look for. Been there, done that.
I've always been an advocate of the something for everyone style vacation. If you have a family, you know how hard it is to make everyone happy. That's why I've picked out Pigeon Forge and the surrounding area. This is one of those places. You get the culture which is almost pure country and southern. You get a lot of history, including a museum of the Titanic. This is not something that I expected to see in Tennessee.
The Titanic Museum is a hands on experience. You get a ticket that looks just like the ones that the passengers of the ill feted ship had to board. You get to see a replica of the grand staircase and other areas of the ship. You get to feel ice and ice water to experience what it was like for the victims. You also get to see things that were recovered from the ship. It's a unique museum, and it sits in Eastern Tennessee.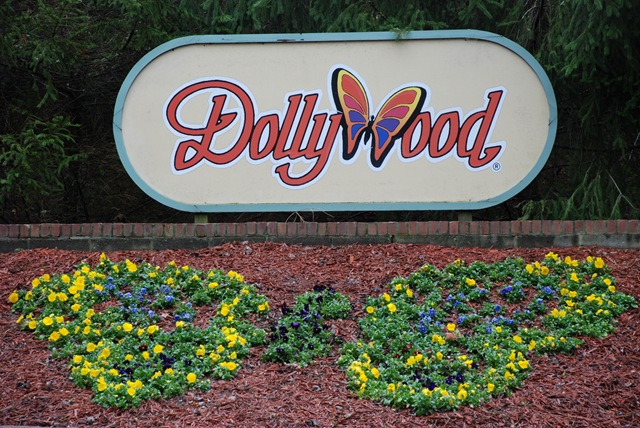 The most famous thing about Pigeon Forge is Dolly Parton and her Smokey Mountain theme park, Dollywood. This place is one of those wonderful spots that has all the action of thrill rides and water parks, but is in a beautiful setting. It's not Disney, but it's really cool. Not to mention, if you get there on opening day, which is tomorrow, you might just get to see Dolly, herself. She goes to every opening day in person, to greet the new season's visitors. Dollywood's creators add new attractions every year and try to keep the park at one with it's surroundings, so you won't see the normal gaudy displays that you see at other amusement parks. You'll still see beautiful woodland buildings and lots of gardens.
In Pigeon Forge, you can stop by the old mill and buy tickets to any of the shows in town. You can see just about anything. They have magic, comedy, murder mystery, gospel, country, bluegrass, dinner show, and even the Hatfields and McCoys. That's right, there's a Hatfields and McCoys Dinner Theater. It's a comedy show that includes the feud, and some really great fried chicken and pulled pork. So, if you have a family that's hard to please, pick out a show. There has to be something that everyone can agree on.
Oh yeah, if the Hatfields and McCoys feud isn't enough thrill for you, you could always check out the Feuding Lumberjack show.
Then there's Wonderworks. It's a little unusual. It's one of the best interactive children's museums I've ever seen. This place has climbing walls, virtual rides, and the place is upside down. You can't dislike that. Kids get to make giant bubbles, sit in space capsules, try on space suits, and lie down on a bed of nails. There are many things inside this place to keep everyone busy from simulated earthquakes to laser tag. It's a lot of fun and a lot of activity for children.
If you get tired of Pigeon Forge and Dollywood, even though I can't imagine how, there's always Gatlinburg right up the road. This is a picturesque laid back area where you can concentrate on shopping for the local crafts, and plenty of restaurants that serve wonderful southern food. If the pace of Pigeon Forge gets a little fast for you, take a side trip to Gatlinburg. In Gatlinburg, you'll find a lot of touristy stuff, but it's fun. You can also take a gondola or skylift ride up the mountains. There are shows to see if you want, but it's easier to just kick back and relax.
Now, if the shopping and the shows aren't enough of a thrill for you, Sweetwater has something a little different. The Redneck Resort is the place to go mud bogging. And this is why I picked this vacation for the blog. This place has mud bogging and rock crawling events. You can come on over and watch, or if you're real adventurous, you can join in. They do ATV's, 4WD's, and many other kind of vehicle competitions. It's a lot of fun, it's loud, and it's dirty. If you ever wondered what good ole boys and their families do for fun, here you go. This is a place that for a fee, will allow you to try out mud bogging. That's right, you can ride along with a bogger, or you can try the bog yourself. There aren't many places around that are set up for the public like this one, so you should check it out. The fees are reasonable, and the waivers are ready to be signed. Just don't wear anything that's hard to clean. If you like, you can camp in the dry part of this resort as well.
And my last idea for this little road trip is to visit the Cherokee Nation. Cherokee, North Carolina isn't far from Pigeon Forge, but if you're that close and you don't go, don't blame anyone but yourself. This is an amazing town. Yes, they have a casino, but it's so much more.
Cherokee is in a narrow valley in the Smokey Mountains. It's one of the most beautiful places on Earth. The village is always bustling with activity. In the summer they have festivals and pow wows. It's wonderful to see the crafts, and learn the dances. Most of the time in the warmer months there are dancers in full dress doing the dances on the streets and teaching people about the significance of each dance. The kids always get to try out the dances and join in. It's a lot of fun.
The Cherokee Indians were driven from their home in the 1830's by the Indian Removal Act. The Eastern Band of the Cherokee Indians is the group that now lives in Cherokee. Thousands of Cherokee were removed from the area, and thousands of them died on the forced walk to Oklahoma. That's why it's called the trail of tears. The few that stayed behind lived on the private land of a man who had been adopted by them, but was a white man. It preserved the nation in the east and today, it's become a wonderful area where their culture will never die out.
High in the hills above Cherokee is an amphitheater built into the mountainside. The acoustics of this place are amazing. They don't need any speaker system. You can hear them whisper. This is where on most evenings in the warmer months you can go to hear them tell their story of the trail of tears. It's very moving, and should not be missed.
Cherokee is a great place to see beautiful sights, learn about an amazing culture and spend some time watching your kids absorb some history without even knowing that they're learning. I cannot stress enough that whenever you travel, you should spend as much time as possible learning about the local culture and traditions.
The United States is a big place, and this Smokey Mountain area is only a tiny part of it. I've noticed that other peoples around the world have been trying to classify Americans as a single entity. That's simply not possible. There are so many different cultures and people in this country that it takes a lifetime to experience it all. You cannot pigeon hole Americans into a single culture--we are many.
One of the best places in the country to learn that is in Pigeon Forge, Tennessee.
http://ngeorgia.com/history/nghisttt.html
http://www.pigeonforge.com/Home
http://www.hatfieldmccoydinnerfeud.com/
http://titanicpigeonforge.com/about-titanic-pigeon-forge.php
http://www.wonderworksonline.com/pigeon-forge/experience/exhibits/
http://www.dollywood.com/
http://redneckresorts.com/home.html
http://visitcherokeenc.com/
http://www.mypigeonforge.com/
http://www.pigeonforgeonline.com/
http://www.insidepigeonforge.com/
http://www.vacationsmadeeasy.com/GatlinburgPigeonForgeAreaTN/
http://www.cherokeesofsouthcarolina.com/
http://paialowereasterncherokeenationsc.com/
http://www.harrahscherokee.com/
http://www.nps.gov/grsm/index.htm
http://www.cafepress.com/artisticcreationsbyninakindred1
http://pixels.com/profiles/terri-dixon.html
http://www.zazzle.com/imagings
Enjoy!