I'm not much for the wild west, but here's one that seems worth checking out. This is the gate in Poipet, Cambodia. This town is a wild west like town, that used to be a stronghold for the Khmer Rouge on the border of Thailand. It's part of the Pailin Province, and is famed for it's precious gemstones and, you got it, gold.
Although most of the sapphires, rubies, and gold are gone, people still come from all over to seek their fortunes. It gives the area that feeling of the wild west. In both Pailin City and Poipet, there are casinos, bars, and dives where you can see and meet ladies of the world's oldest profession.
Now, should you take a walk on the wild side? Sure, why not? The Khmer Rouge is all but over. The locals like to meet foreigners and show them their country. It's a great culture shock style vacation. If you've seen Vegas one too many times, then pull over and check this area out.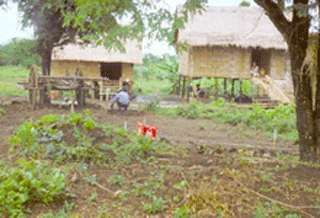 During the Khmer Rouge years, many refugees made their way from all over to this spot in the mountainous border region of Thailand and Cambodia. Many of them still live in Ba Hoi Village. This is a major tourism factor in the Pailin City area. People can come from all over and see what being a refugee is like, still today. They can talk to the people and hear their stories. It's amazing to hear first hand what happened to these people and their families during the war years. It's incredible to see how they survive still today.
But, don't think for a second that you won't be seeing any ancient temples because you've left the normal tourist areas of Cambodia. Wat Khaong Kang is a Buddhist teaching center that sits right in the city limits. It is a beautiful place to visit.
O'Tavao is one of many beautiful spots where you can enjoy nature in Cambodia. It's only 5 km from Pailin City, and it is a refreshing and beautiful place to visit. You can also go to Go-Ay Mountain and Kbal O'Chra. There are many wonderful places in the area to enjoy nature, go hiking, or even look around for left over gold and gems. Just make sure that you follow the worn paths. I can't stress enough that Cambodia is still rich in land mines. You need to be careful when going out into nature in this country. Ask a local or take a guide, but at the very least, don't get off the beaten path. Literally.
Now, Pailin City, and Poipet are not high class modern cities. The cities are still what Americans would classify as third world. You will find child pick pockets and such, but don't let it scare you. These cities are real and friendly, and they're learning how to appeal to the rest of the world and make money.
The casinos have arrived, and with them all the high end resort hotels you could hope for. There are a few in Pailin, and several in Poipet, with more coming all the time. Being on the border makes these areas extremely popular for gamblers and vacationers alike. You can come here and play all the regular games, eat good food and stay in five star hotels. It's quite the varied lifestyle that you see in both of the cities. It brings a lot of money into the cities and and country.
So, you can see all different kinds of life in the Pailin province. It seems as though two completely different worlds have come together in a mad paradox along this border. You can meet the locals, and the refugees. You can play in the wilderness, as long as you don't go near the land mines. You can pan for gold if you like. You can stay in a five star resort hotel and play in the casinos all day and night. It's an amazing confluence of culture. It's an extreme mix of old and new. There's also a lot of ways to learn about the Khmer Rouge in the area. You can even go to the wats and see the lives of the Buddhist monks.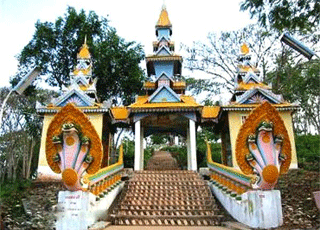 It's beautiful. It's mystical. It's like no place else on Earth. You can even go from here to Thailand, because the border is spitting distance from both of these cities. However, do not try to cross from Thailand to Cambodia in Pailin City. Do it in Poipet. Trust me.
Have you seen enough of the major tourist cities in Thailand, Cambodia, Laos and Vietnam? Come here to the wild near east and get a taste of something that is all but gone from the rest of the world. Come and see what it's like to live in a frontier on the edge of a new world. You won't regret it, and you'll learn more than you ever bargained for. Will you be happy with what you come away with?
Most likely. Enjoy!
http://www.uvm.edu/rsenr/gemecology/cambodia.html
http://www.cambodiatips.com/travelguide/pailin/
http://www.casinocity.com/cambodia/poipet/
http://www.holidaypalace.com/hotel-collection/holiday-poipet/
http://www.cambodia-travel.com/information/poipet.htm
http://www.lonelyplanet.com/cambodia/northwestern-cambodia/poipet
http://www.tourismcambodia.com/hotels/cambodia/pailin/
http://pailin.info/
http://www.tourismcambodia.com/travelguides/provinces/pailin/what-to-see.htm
http://www.tourtocambodia.com/maps/Pailin.htm
http://pailincity.net/
http://www.agoda.com/asia/cambodia/poipet/poipet_resort_casino.html
http://www.tucantravel.com/country/overview/cambodia
http://www.aboutcambodiatravel.com/pailin-attractions.php
http://infocambodia.com/index.php/pailin-province
http://www.cafepress.com/artisticcreationsbyninakindred1
http://pixels.com/profiles/terri-dixon.html
http://www.zazzle.com/imagings