There are things that we just miss, because we've overlooked it, no one talks about it, or we just never even thought about it. Here's some of those things.
1. In Oklahoma City, OK this year, they will be holding the 62nd Annual Square Dance National Convention. I know what you're thinking, but it's not the old barn dance that you've seen on TV. These dancers have spent a long time in classes learning the moves that make square dancing popular. If you think you've heard it all, try doing a move called a bucket of worms.
2. Have you ever considered cruising the St. Lawrence Seaway? It's not the Caribbean Cruises that we've all heard about, but then again, I haven't heard of them breaking down all over the place. There are several cruise options on the Seaway, but one of my favorites is the Pearl Seas Cruise of the Thousand Islands area. It's relaxing, old world and beautiful.
3. How about a night on the town in Little Italy, New York City? There is nothing quite like a warm summer evening dining outside in front of the restaurant with the streets blocked to traffic and street performers all around. There's wonderful music to dance to, and as always, the great authentic Italian food. Not to mention, it always looks like Christmas in Little Italy and the views are way better than you might think.
4. My family talks non stop about the NASCAR Racing Experiences around the country. But, did you ever wonder if you could drive an Indy Car? Yes you can. The Indy Racing Experience is waiting for you at the Indianapolis Motor Speedway. Here's your chance to get off the beaten path and away from NASCAR for just a moment and try a different kind of racing.
5. Ithaca, New York is one of those unique places in the world. It's green, it's gorges, and it's full of food of all kinds. The Moosewood Restaurant is famous the world over for it's amazing vegetarian cuisine, and their cookbooks are some of the best sellers of all time for vegetarian. There are also over 100 other fabulous restaurants in this amazing city. You can find some of the best Thai food outside of Thailand, there's an authentic Irish Pub with music too, there's great Mediterranean and so much more. Then if you need to bike it off, you can rent a bike from several locations around town. You can also hike it off in any of the several beautiful gorges that give the town it's slogan...Ithaca is gorges!
6. Here it is. Did you know that Cedar Point has been ranked the best roller coast amusement park in the world for most of the last decade? It's in Sandusky, Ohio, for heaven's sake. They have, count them, 16 roller coasters, most of them world famous and some of them have been around for years, like the Blue Streak and the Corkscrew. There are tons of other rides in the park, so there's something for everyone, but remember, the best amusement park in the world is just over in Ohio.
7. It's here. Sandboarding. It's all the rage, and one of the best places to do it is the Imperial Dunes in southwestern California. There aren't rental places that I know of just yet, but it is allowed, along with all the ATV's, dirt bikes, and dune buggys you can muster up. It's a great sport, but remember to allow yourself to get used to it. It's definitely not like being on the water.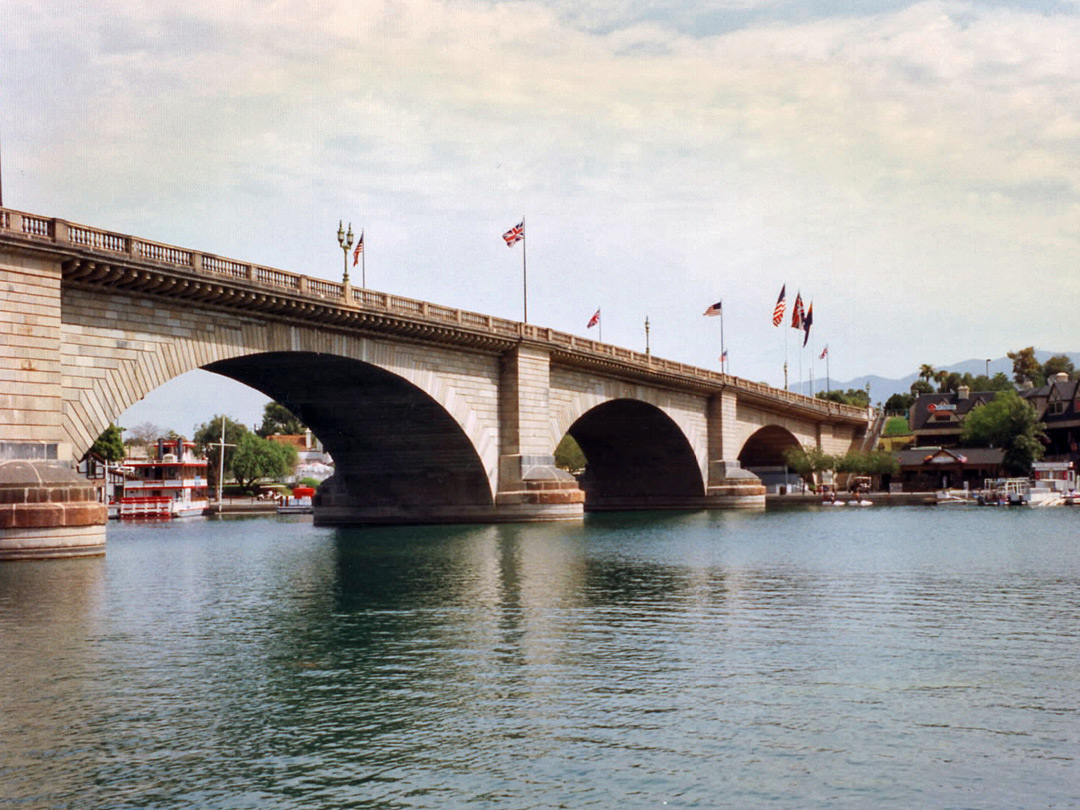 8. Just in case you missed this one, several years ago London Bridge was sold, and the owner moved it brick by brick to Lake Havasu, Arizona. Not only is the Lake Havasu area a beautiful place to go boating and in general spend your time, but London Bridge is there too.
9. I love this one. Only in Vegas can you spend a couple of hundred dollars and have the privilege of playing with heavy equipment. It opened only a couple of years ago, so if you haven't been to Vegas lately, you missed it. They have bucket loaders, backhoes, and all kind of wonderful toys for your biggest boys and girls.
10. Michigan is a great place. There are so many unique things there to do and see. I spent half my life traveling in Michigan, and I can attest to that. But, if there's one thing that I can say is unique about Michigan, it's the dune rides. There are dunes up and down western Michigan along the shores of the great lake that bear's it's name. Silver Lake Dunes is the place to go however. You can take a ride in dune schooners, or you can bring your own vehicle. This is the only place in duneland that you are allowed to do that. It's great fun.
So, if you are looking for something a little different to do this summer, I hope you enjoy these ideas. It's all great fun, and it's all right here in the U.S. Enjoy!
http://www.62nsdc.com/
http://pearlseascruises.com/store.php?crn=229
http://www.littleitalynyc.com/gethere.asp
http://www.indyracingexperience.com/t-DriveIndyCar.aspx
http://www.visitithaca.com/dining/
https://www.cedarpoint.com/things-to-do/roller-coasters#panel1-3
http://www.youtube.com/watch?v=6OZHRSWKvEc
http://www.golakehavasu.com/activities/more_to_do/london_bridge.aspx
http://www.grandcanyontourcompany.com/digthis.html
http://www.thinkdunes.com/
http://www.cafepress.com/artisticcreationsbyninakindred1
http://pixels.com/profiles/terri-dixon.html
http://www.zazzle.com/imagings