I've been doing this for quite a while now, and some of my friends have asked me to put in some things that they might find interesting to do on a day trip from right here in Connecticut. So, here you go.
1. One of my favorite walks in the world is the cliff walk in Newport, Rhode Island. It can be a little drive from home, but it's so worth it. You have the views of the ocean, the views of the mansions and a great walk. It runs about seven miles around the little peninsula that is the city of Newport. It connects to at least two beaches as well.
2. It was the playground of the Vanderbilts and all their friends. The mansions of Newport, Rhode Island are some of the most amazing homes to tour in the country. There are many of them to tour. There is a fee, but there also is a day pass that will allow you into multiple homes.
3. Someone in Montville, Connecticut at some point discovered dinosaur tracks. They're the real thing and it's since become a very popular state park. There are exhibits, trails, and activities for the kids. It's a great way to spend a day.
4. Gillette Castle is one of those places that you have to see to believe. It was built about 100 years ago by William Gillette. Now, I won't get into his idiosyncrasies that led to him designing his house the way he did, but it is a beautiful spot, an interesting home, and a great view of the Connecticut River. During the summer on the weekends they also do some outdoor skits from the period of the actor William Gillette. If that doesn't fill your day, Devil's Hopyard State Park is right up the road and has some great scenery and trails.
5. Quechee Gorge, Vermont is a small, but very dramatic gorge pretty much in the middle of flatlands. It's a great little hike through the gorge. There are beautiful meadows and lakes above, and in the summer they have a hot air balloon festival that's amazing. There's also some great restaurants around there, shopping, and there's mini golf all over the place for the kids.
6. Lake George is not normally seen as a day trip, but most of the time it is when I go. There's something about a resort area that just begs to be visited for the day. When I go up there we like to take a ride on the Mini Ha Ha around the lake. Then we hit the go karts and mini golf. If you like, in the summer there are horse and buggies around and a great beach right in the village. It is Lake George, so the food is fabulous too. There's also Fort William Henry right in the middle of the village that's great to visit.
7. Ocean Beach Park, New London, Connecticut. I don't care what anyone says about their great beach and board walk, this one rules. I've been up and down the Eastern Seaboard and this place is great. There's all kinds of things to do from rides, to waterslides, to pools, to arcades, to food, to bands on the weekends, and there's the beach. It's a great way to spend a summer day.
8. Yes, that's Thomas the Train. Actually, it's the Essex Steam Train in Essex, Connecticut. It doesn't always look like that. They only do that for special occasions. This is a great all around trip. The train ride is great. They have a special lighted tour at Christmas as well. They also have a combined train and riverboat ride in the summer. It's a great time for everyone. Afterwards, stop off in Essex for some really great ice cream and a maritime museum that's pretty interesting.
9. The Connecticut Science Center in Hartford is our newest attraction in museums. This place is great. They have 3D Imax for a theater. You can make a film of yourself doing a weather broadcast. There are so many things to do in this science center, that it will keep you and the kids busy all day. If it doesn't, there's an amazing river walk right outside on the Connecticut River that you shouldn't miss.
10. The Maritime Aquarium at Norwalk, Connecticut. The seals are the main attraction here, it's true. Everyone loves to gather for feeding times. There are so many other things to see and do here that I can't list them all. They have Imax. They have all kinds of maritime life. Sometimes you can even play with penguins in this place. You can always pet the rays. It's a great time for adults as well as the kids. It's not as well known or as big as Mystic, but it's my favorite. It sits right in the middle of Norwalk, so there's wonderful shops and restaurants right outside as well.
11. The Berkshire Museum in Pittsfield, Massachusetts is one of those places that I didn't expect to be so interesting. It's a little museum in a small town in western Mass, but it's full of surprises. They have mummies, gems, Ansel Adams photography, fine art from around the world, and an aquarium in the cellar. I'm not joking. They also have a tortoise named Chuck that will come out and visit with you and the kids. It's a great little place to spend some time.
12. The New England Air Museum at Bradley International Airport, Connecticut is fabulous. There are planes indoors and outdoors to see. There are all kinds of exhibits and there are flight simulators to ride in. It's not as exciting as some of the other museums, but it's really interesting.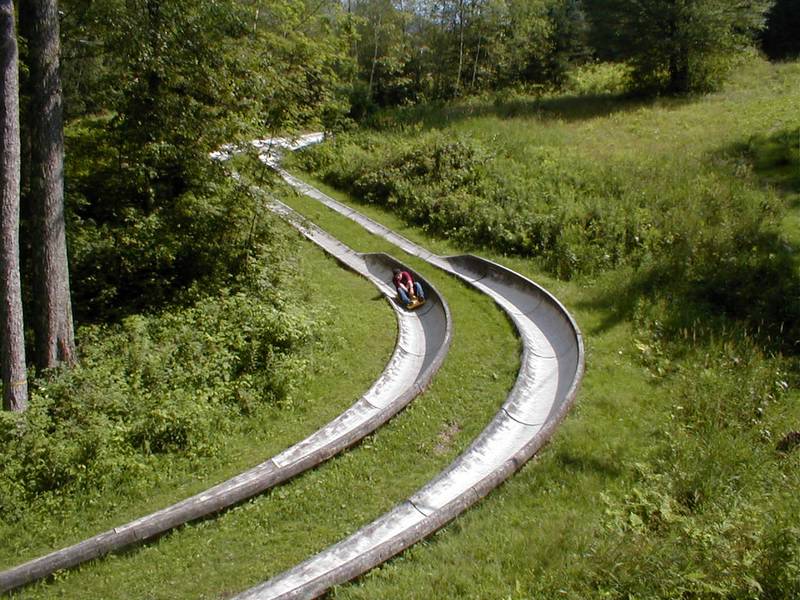 13. Jiminy Peak Mountain Park in Hancock, Massachusetts. This place is a great ski resort. That being said, in the summer time this place has it all. It makes traditional theme parks seem boring. They have alpine slides, mountain coasters, segway tours, bungee jumps, smaller rides for little kids, zip line adventure parks, and great food. It's a must see. You can also ride to the top of the mountain on the ski lifts for the view. It's a great fun way to spend the day.
14. Mount Greylock, North Adams, Massachusetts. This is the highest point in the Berkshires. You can climb it, drive it, and camp on it. It's a stop on the Appalachian Trail, so there's a hiker's cabin right next to the parking lot. There's a gift shop and snack bar at the top as well. The tower is open most days and gives an amazing view of four states.
15. Natural Bridge State Park, North Adams, Massachusetts. This is a great little park that was found when they were using it as a quarry. The natural bridge is small, but it's real, which is something that I've almost never run across. There are a couple of little waterfalls, and some odd little bridges to run around and take pictures on. It's fun, and a great addition to a day out in northwestern Mass.
16. Battleship Cove, Fall River, Massachusetts. This place is awesome. They have a PT Boat, a submarine, a battleship, and so much more. You get to roam around on these things. You can climb ladders, sit in gun turits, and eat in the mess hall. It's great fun. After you can stop and take a ride on the carousel at the building next door, and you can spend some time in the riverside park on the opposite side of the parking lot. Fall River is also known for it's Portuguese food restaurants, so make it a day.
17. The Children's Museum in West Hartford. The center piece here is the Gengras Planetarium. There is also a small zoo that doesn't thrill me. They do have an interactive children's museum and they have classes where the kids get to work in a lab. It's a lot of fun, and the planetarium is great.
18. Hublein Tower sits high atop Talcott Mountain in Simsbury, Connecticut. This place is a hike, but the views alone are worth it. This is the place that the elementary schools take the kids to on field trips to work in the academy labs with the teachers there. The overall place is sprawling with trails, the academy and the tower area. Inside the tower is an amazing home museum. The walk is exhilarating and the view is worth all the trouble.
19. Hunter Mountain, New York. This is the Catskills, and this is the best place to go to a festival in probably all of New England. They have all kinds of music festivals, Scottish festivals, Octoberfests and a lot of others. There's always something going on there, and the scenery is unmatched. There are ski lift rides up the mountains, plenty to do in the town, and great food. There also is one of my favorite waterfalls, Kaaterskill, on the road to the town.
20. Great Barrington, Massachusetts is just a great town to go to. Whenever we get bored, we end up there. It doesn't have anything particularly thrilling, it's just the atmosphere. There's great food, great shopping, great antiquing, and a bohemian feel that just keeps us coming back. They have a little river walk that they're still working on behind the downtown area that's really cute. They have a regal looking academy there that has a great rare book sale every July. Just north of town they have Monument Mountain which is a tiny little mountain that you can climb in 20 minutes and gives you just as dramatic a view as if you'd climbed a real mountain. It's a wonderful place to spend your time. They also have access to the Appalachian Trail for two interesting sections.
So, I hope this helps with those around me looking for day trips for the summer. I've done all these things, most of them more than once. I've always had a great time in these places, and I hope all of you do too. Enjoy!
http://www.cliffwalk.com/
http://www.newportmansions.org/
http://www.dinosaurstatepark.org/
http://www.stateparks.com/gillette_castle.html
http://www.quecheegorge.com/
http://www.vtstateparks.com/htm/quechee.htm
http://www.lakegeorge.com/
http://www.ocean-beach-park.com/Park-Info.html
http://www.essexsteamtrain.com/steam.html
http://www.ctsciencecenter.org/Default.aspx
http://maritimeaquarium.org/
http://berkshiremuseum.org/
http://www.neam.org/
http://www.jiminypeak.com/
http://www.mass.gov/dcr/parks/mtGreylock/
http://www.mass.gov/dcr/parks/western/nbdg.htm
http://www.battleshipcove.org/
http://www.thechildrensmuseumct.org/
http://www.ct.gov/deep/cwp/view.asp?A=2716&Q=325272
http://www.townofgb.org/Pages/index
http://www.huntermtn.com/huntermtn/index.aspx
http://www.cafepress.com/artisticcreationsbyninakindred1
http://pixels.com/profiles/terri-dixon.html
http://www.zazzle.com/imagings