If there's anything that I'm a sucker for, it's anything Russian. I love the country, the history, and the culture. The other day, and I don't remember the arena that I was in at the time, I heard the word Kaliningrad. I hadn't thought about the place in a few years, but it is one of the most intriguing places in all of Russia. Ever since Michael Palin went there on a documentary series about the new Eastern Europe, I've been interested in this place. Is it part of Russia? You bet it is, even though it's no where near there.
With this one, I'll have to start with some history. Kaliningrad used to be Konigsberg. It has been under several rulers over the centuries from German to Polish to Prussian to Soviet and currently is Russian. When the Soviets took over the area after WWII, they renamed the city Kaliningrad in honor of Mikhail Kalinin, one of the presidents of the Supreme Soviet and Russians migrated to the area, subsequently replacing most of the Germans. They started to speak Russian and turned it into a Russian area. Once the Soviet Union fell, most of the area went to original countries like Lithuania and Latvia. All around this tiny area no larger than Connecticut, countries were forming. They had to decide what to do in their own right. They decided not to join any of the new countries and to remain loyal to Russia. So this tiny area of the RSFSR (Russian Soviet Federative Socialist Republic) was formed. No where near Russia, but very Russian indeed.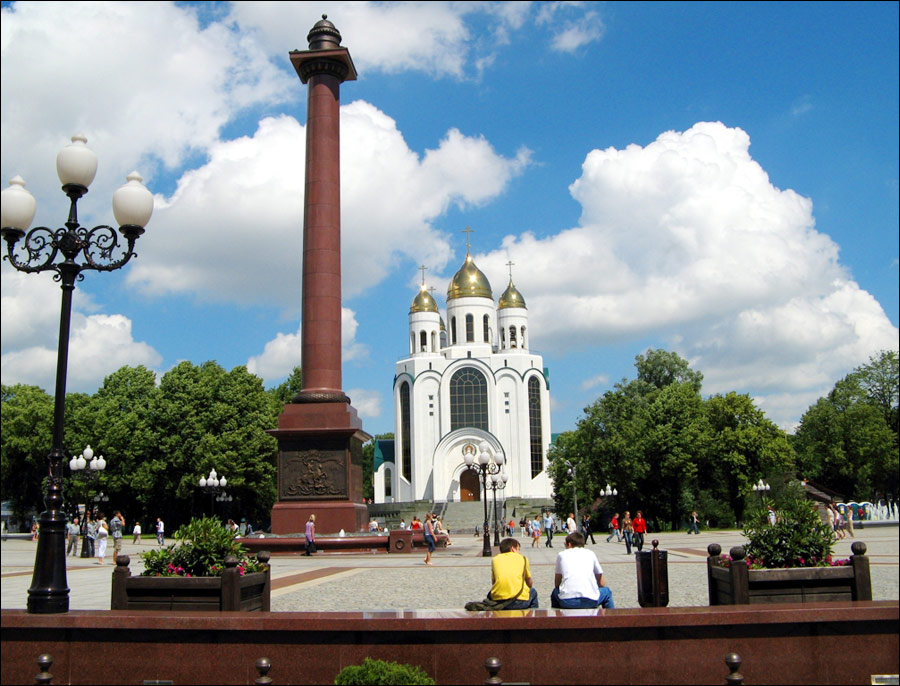 This tiny republic sits on the Baltic Sea, between Poland and Lithuania. To get to Russia, you have to go through any combination of Lithuania, Latvia, and/or Belarus. It's very isolated from it's mother country, but it's a very important part of Russia.
Kaliningrad is a bustling international port. The shipping industry is huge there. Merchandise from all over the world travels through this northern port.
Just looking around this city is fascinating. Most of the old town was destroyed during WWII, and there are several Soviet style buildings around town. However, there are also buildings, or pieces of from many other times.
Konigsberg was known for having six gates to the city. Most of them are still around, being some of the few surviving structures from before the war. There are tours that you can take to go and see them all. Each one is different and unique. They were all built as protection for the city in ancient times.
Some areas along the waterfront show their European flair from the pages of history in that they resemble Amsterdam, more than they do anything in Russia.
One of the best known and most unique things about Kaliningrad is the bridges. Part of the oldest part of town is located on an island, which means that there needs to be a bridge. Well, in the old days there were seven of them that went to this island. A guy by the name of Euler produced a theorem that proved that there was no way to cross all seven of Konigsberg's bridges without crossing any one of them more than once. This theorem went on to solve all kinds of routing problems throughout the world, and made Mr. Euler a famous scientist. What happened to the bridges was that they were destroyed in battle during WWII and were replaced by five bridges that are equally noted by the people who live in today's Kaliningrad. The island that the bridges connect to the rest of the city is a beautiful place to see, with a cathedral, a great park and a wonderful river walk.
But what if anything makes this place an adventure that's worthy of my blog? It's existence makes it an adventure, but there's more.
For one thing, Amber. This little area is the home of the world's largest Amber mine. The Kaliningrad Conglomerate mines three to four tons of Amber a day. Catherine the Great had a whole room made of it. Amber is a beautiful stone formed from petrified sap. I'm not joking. It makes beautiful jewelry and Kaliningrad is one of the best places to buy it. You can take a tour of the mine and see how the gem is extracted. Then you can go to the workshop and see how it's processed. It's one of the only places on Earth where you can see where Amber comes from and how it's worked. It's a great way to spend the day.
Now, if that's not enough for you, and you haven't gotten enough of a vacation from all the museums, architecture, culture, history, and shopping...there's more.
How about a trip to the beach? Here's something that always makes me cringe and intrigues me at the same time. It's the Curonian Spit. Here there are beautiful beaches along the Baltic Sea. This region is also a World Heritage Site, because of it's dunes. This place has the highest dunes in Europe. Epha is the highest at an average of 64 meters. That's a big dune. This is one of the few places that you can go for a swim with seals. People find them along the beach sunning themselves. It's really different, I only recommend it in high summer, and you have to be a hearty soul, but it's an adventure you'll never forget.
I always say go to a place that you will never forget. Kaliningrad is that. There are two train stations and an international airport to get you there. There are also some cruises that go along the Baltic Coast that stop in the city for a little bit. Remember, you will need a Russian Visa, and that means working with a tour company. Also remember that if you're going to other parts of Russia on the same trip, you will need a two entry visa, which is tricky and you definitely will want to work with a Russian tour agency. If you actually want to swim in the Baltic on the Curonian Spit, I would only go in late July or August. Barring that, come and see a little world of it's own along the Baltic. Kaliningrad and the RSFSR is an amazing little piece of a much larger country that's truly unique. The voice of a people has created a once in a lifetime spot in the world to visit.
Enjoy!
http://en.tracesofwar.com/article/9664/Bunker-Museum-Kaliningrad.htm
http://www.visitkaliningrad.com/brandenburggate.html
http://rbth.asia/travel/2013/06/06/kaliningrad_kants_hometown_preserves_its_ancient_charm_47173.html
http://www.something-interesting.co.uk/?p=487
http://www.inkaliningrad.com/english/?page_id=51
http://www.balticsandbeyond.com/kaliningrad.htm
http://www.kutrubestravel.com/tours-kaliningrad.html
http://www.balttours.lt/en/kaliningrad/tours_to_kaliningrad/
http://curonianspit.net/
http://www.cityknown.com/Cities/Attraction.aspx?BusinessID=2653#
http://www.amber.com.pl/en/news/informations/item/263-kaliningrad-conglomerate-a-producer-of-silver-jewellery-with-amber
http://www.amber.com.pl/en/news/informations/item/260-amber-mine-in-kaliningrad-open-for-visitors
http://www.studyrussian.com/russian-course/kaliningrad/kaliningrad-today/kaliningrad-history.html
http://www.lithuaniantours.com/tour-packages/lithuania-plus-kaliningrad/96
http://mathforum.org/isaac/problems/bridges1.html
http://visitkaliningrad.com/
http://www.cafepress.com/artisticcreationsbyninakindred1
http://pixels.com/profiles/terri-dixon.html
http://www.zazzle.com/imagings