There is nothing like getting out in the summer in New England. We all get so bunged up in the winter, unless we ski or have a snow machine, that when summer comes, we can't be stopped. Even this year, with so much rain that we started building arks, we managed to get out and enjoy the wonderful weather that the northeast has in the summer months. And there's nothing quite like going out to a theme park, or a water park, or a mountain park. New England has them all.
Lake Compounce of Bristol, CT tops my list of must do's. This is America's oldest theme park having been here and in operation for over 150 years. Lots of people swarm to Six Flags and other chain and enormous theme parks, and I understand that. They have all the best rides and huge water parks. What does Lake Compounce have? It has all that. The Boulderdash is one of the most beloved wooden coasters in the country. It's won many awards, and it goes through the woods, folks. That's cool. Lake Compounce has other roller coasters as well. It also has a water park, and live entertainment. You won't find the crowds here that you find at Six Flags, so the lines are shorter. It's a great place to spend some time with the family. They also have a great haunted graveyard for Halloween.
Another place that I love here in Connecticut is Ocean Beach Park in New London. Yes, it's a beach, but it's so much more. This is a little park. That's true. It not only has a great beach with a boardwalk where bands perform on weekend nights, but it has a huge arcade, rides, water slides, and a pool for those who don't wish to go in the ocean. It's a great place to spend the day with family, and it will keep you coming back. It's one of the areas most understated entertainment spots.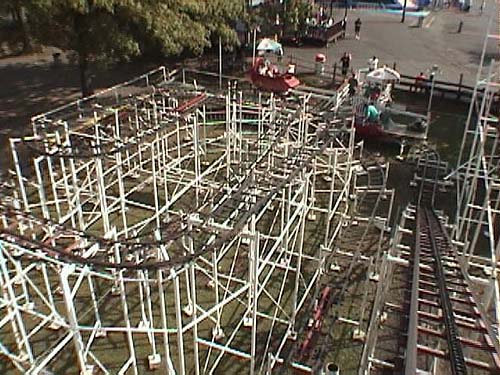 While we're on the subject of Connecticut, we also have Quassy Amusement Park. This one has all the usual suspects as well; roller coasters and other assorted rides. It is however, geared more towards little kids. If you have young ones, and think they may not be ready to enjoy a day at a full size theme park, this is a great spot. They also have specials on various days, so check their website.
Now, there are all kinds of amusement parks in New England, but I'm talking about some of my favorites and Clark's Trading Post in Lincoln New Hampshire is one of my favorites. They have one thing that I've never seen at any other theme park--bears. Clark's started rescuing bears that were injured from the wild decades ago. Somehow or another they turned it into a performance, and the trading post hit the map. They not only have a bunch of ice cream junkie black bears to perform for you, they have rides and a train trip that will leave you smiling for days. It's a lot of fun, especially for the kids, but us adults love it too.
Now, there are other parks in New England. There's Six Flags in Agawam Massachusetts. Smuggler's Notch, Vermont has a great water park. Story Land in New Hampshire is great for kiddies. Canobie Lake Park in New Hampshire is a hoot with rides and games. We have plenty to do, but as I said last year, our other great contribution is the mountain parks.
Jiminy Peak in Massachusetts is my local favorite when it comes to mountain parks. They have mountain coasters, alpine slides, zip lines, bungee swings, and rides up and down the mountain. It's a great place to spend the day with the family and you never get tired of the activities.
But, New England loves summer, and there are dozens of mountain parks. We have tons of ski resorts out this way, and a lot of them have made summer mountain parks for the off season from skiing. Just stop by any of them on a warm summer day and enjoy the festivities.
And another thing. In New England we've become addicted to zip lining. More and more these fabulous places are popping up all over the East coast. In Deerfield, Massachusetts they have a great place that you can go zipping through for about three hours, and they are fast being joined by a bunch of competitors.
So, here in the Northeast we love to get outdoors in summer, and we love rides, ziplines, and waterparks. It is who we are, and if you would like to come and join us, you'll see what fun it can be. Enjoy summer before it gets away. Soon it will be fall and the leaves will be changing here in the great north woods. Most of our parks, except for the water parks, will be open through at least Columbus Day. Come and have a thrill and some fun.
Enjoy!
http://lakecompounce.com/
http://www.ocean-beach-park.com/Park-Info.html
http://www.clarkstradingpost.com/
http://www.sixflags.com/newEngland/index.aspx
http://www.newenglandamusementparks.com/
http://www.jiminypeak.com/mountain-adventure-park
http://www.attitash.com/
http://www.stowe.com/
http://www.okemo.com/index.asp
http://www.smuggs.com/pages/summer/?utm_source=vne&utm_medium=Online&utm_campaign=s13&utm_content=listing&pub=vne&NCK=vne
http://loonmtn.com/
http://www.bromley.com/
http://www.cranmore.com/
http://www.cafepress.com/artisticcreationsbyninakindred1
http://pixels.com/profiles/terri-dixon.html
http://www.zazzle.com/imagings
Enjoy the summer, while I go off on my own adventure. This will be the first time that I have not managed to write this weekly blog in over a year. I will be doing some knocking around Europe for a while, and when I come back, I will have plenty more to write about.
See you soon!