For years I have been fascinated with nature. I've traveled the world to see waterfalls, glaciers, mountains, and other amazing facets of God's creation. Over the years I have seen sheep, cows, deer moose, bears, whales, seals, puffins, monkeys, bison, and so many other creatures. One of the trips of a lifetime that has always interested me, is that pilgrimage to Churchill, Manitoba, Canada to see the beautifully majestic polar bear.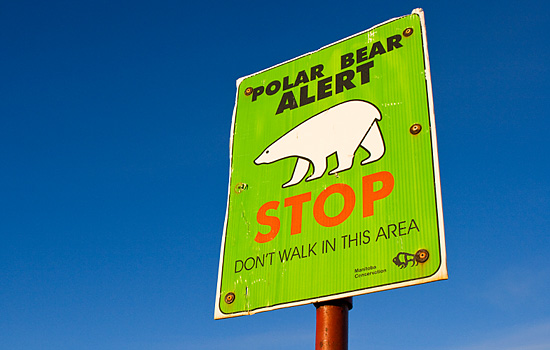 You have to have a plan in order to see something so wild and potentially dangerous in it's natural habitat. No matter how cute they appear, don't forget that these animals are completely untamed and are carnivores. The people of Churchill have a unique situation and a great solution to how and when people can see these fabulous creatures.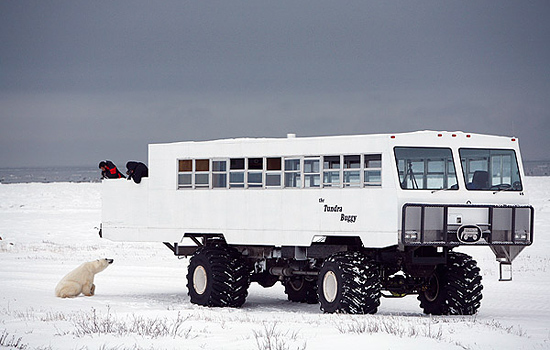 The Tundra Buggy was the solution to the how. These vehicles are designed to carry an entire group of people and are high enough and rugged enough to keep tourists safe while they go out to snap photos of one of nature's most awesome spectacles. Bears are naturally curious and most often come right up to the buggies to check out what's going on.
Churchill is located in the far north of Manitoba, along Hudson Bay. Every fall in October and November, the polar bears stop by to wait for the ice to form on the bay so that they can get on with their winter routine of hunting seals in the ice. This makes Churchill ground zero for polar bear viewing.
Now, Churchill is more than just polar bears. November starts prime viewing season for the Northern Lights, or Aurora Borealis. Scientists from around the world come to Churchill to study the Northern Lights. It's one of the best places in the world to view them.
In the summer months, Hudson Bay is visited by large pods of Belugas, the world's friendliest whales. You can go out on the water and see them, or, if you have the guts to get in the water, you can go snorkeling with them.
Churchill also has historic sites that teach us about the days of the fur trade and the conflict over that way of life. The British and the French fought wars over the control of the fur trade in the early days of Canada's history.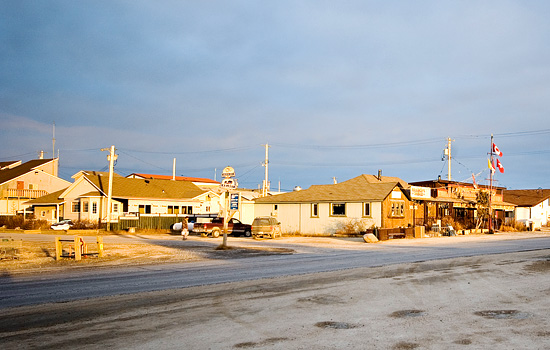 There are many things to do in Churchill. The polar bears are by far the most famous and the whole town is full of polar bear pictures, sculptures, and tons of souvenirs covered with pictures of polar bears. Just remember, this is a northern outpost in Canada. There are no roads to drive there. You have to take a train for two days from Winnipeg to get there by ground transportation. Your other option is to fly. Despite this, the polar bear season is so popular that you need to book well in advance, up to a year to get a place to stay. This is not a spur of the moment kind of trip. That will never work out during polar bear season.
The stars of the show in Churchill are the polar bears. There are remote lodges to get you closer to them. There is a Tundra Buggy Lodge that is mobile so that it can keep in prime viewing spots. There are tours in the Tundra Buggies. There are ground tours as well. There are many ways to see the polar bears. Sometimes they walk right into town.
They're cute, but they are wild. When you get there, your guide, your hotel, and all the locals will warn you to be careful around them. Churchill is in their land. They are the true locals, no matter how long men have been there. Be careful and you will have the adventure of a lifetime. Not interested in going to the northernmost parts of Canada in the late fall and early winter? No problem, come and visit the Belugas in the summer. You'll still be likely to see a polar bear while you're there and there are companies that can find you polar bears to look at almost any time of the year.
Here's another thing to consider. There is a park that has been designated as a protected area just outside of Churchill where mothers den to have their cubs. If you go in spring, you might get lucky and see a family. Just remember, do not approach a mother bear with cubs. Get out that zoom lens and take your pictures from a distance.
So pack up some warm clothes, grab your camera for God's sake, and haul yourself to northern Manitoba to Churchill, the polar bear capital of the world. It's a great time, it's a great adventure, and it's something that you'll never be able to forget.
Enjoy!
http://www.tundrabuggy.com/
http://www.mountainoutintours.com/
http://www.lonelyplanet.com/canada/manitoba/churchill
http://everythingchurchill.com/
http://www.voyagetrek.com/Travel/Tours/Ontario/Manitoba?tfa_SpecialFormNotes=Bing-Search&tfa_SpecialNotes2=Churchill%20Polar%20Bears%20trips
http://www.booking.com/city/ca/churchill.en.html?aid=306742&label=msn-WP1D9OPovVal0cl7J3rhtg-477172380&utm_campaign=Canada&utm_medium=cpc&utm_source=bing&utm_term=churchill%20canada
http://lazybearlodge.com/
http://www.traveltocanadanow.com/belugawhales.htm
http://www.churchillwild.com/adventures/birds-bears-and-belugas/
http://www.travelmanitoba.com/Wilderness/WildlifeViewing/BigPicture/BelugaInvasionChurchill/
http://arctickingdom.com/safaris/scheduled-safaris/pbbwg/overview/
http://www.churchill.ca/
http://www.gonomad.com/1255-travel-explorer-guide-to-churchill-manitoba
http://www.cafepress.com/artisticcreationsbyninakindred1
http://pixels.com/profiles/terri-dixon.html
http://www.zazzle.com/imagings