Ever since I was a kid, I've seen pictures and heard tales about the Aurora Borealis. The Northern Lights are a wonderful display of gases in nature that fascinate most of us humans. It's one of the phenomena in the world that creates in us that sensational feeling that always gets us in trouble -- curiosity. For many, the idea of getting to see these wonderful colorful displays of pure light that cannot be manufactured today becomes a quest. I've been there people. Is it worth going all over the world to see some dancing lights in the sky? I think so. So, how do you do it and when? Let me try to help.
I would love to say that the perfect time to see the Northern Lights is in the middle of summer when it's warm in the northern parts of the world. I would love to tell you that you can see them well from Florida or the Caribbean. I would love if that were true, but it's not. The Northern Lights tend to be more viewable in the fall and winter than any other time of the year. And, here's the heartbreaker, you really need to head north in one of those seasons.
Where to go? Well, start in Norway, as the experts say that Tromso is probably the best spot in the world to view the spectacle. Also in Norway are Alta, Svarlbard, and Finnmark. You can also see them from the Ice Hotel. They are all known for their views of the Aurora Borealis. In Sweden is one of the top spots, Abisko. This is a very popular spot to view the lights along with Kiruna and just about anywhere that you might be willing to go in the Laplands.
Of course it's also great to watch for the Northern Lights in Finland. But in Finland they really roll out the red carpet, which is no surprise to me. That country is friendly and nice. The Aurora Chalet is the place to be in Luosto, where they will call you when the lights appear. It's convenient and by far the most American way I've ever heard of to view the lights. Also popular in Finland are the towns of Nellim, Utsjoki, Ivalo, and Kakslauttanen.
Here's an obvious choice. Go to Iceland. Where do you go to see the Northern Lights there? Anywhere. That whole country is viewing ground zero. Take a look into travel specials to go there too. Iceland Naturally has all kinds of specials throughout the season so that you can have a wonderful experience and a really good time in Iceland as well. Remember, I will always recommend Iceland. It's a great place to be.
Of course you can stay stateside and go to Alaska. That's the best viewing ground in the U.S. Anchorage, Fairbanks, Denali Park, and the whole Yukon Territory are great places to visit. Don't forget, they have an ice hotel there too. Check the prices for all of that, because there are specials to Alaska just for the Northern Lights season for you to take advantage of.
Canada is obviously a great spot for the Auroras. Where? Well, the Yukon Territories are the best, just like in Alaska, since they're basically the same place. Yellowknife is known for it's views, and it is a fact that the place is so adorable that Prince Andrew and Sarah Ferguson spent their honeymoon there. But, if that's not your Canadian taste, you can also do a lot of great viewing in Calgary and Manitoba where the polar bears live.
Don't forget Greenland. I normally do, because it's one of those places that you never hear about when it comes to tourism. Greenland is a great viewing platform for those lights, and they can be seen the best from Kulusuk and Ammassalik.
The British Isles are one of those places that are most generally associated with their rain and cloud cover, but if you are there in the winter when the clouds part, you'll get a great view of Auroras. I will warn you that you won't get the shows that you may get elsewhere and you need to have the time to wait for the weather change, but if you do, the show is great. Aberdeen, Isle of Skye, Northern Highlands, and Dunnet Head are the best of the best for viewing.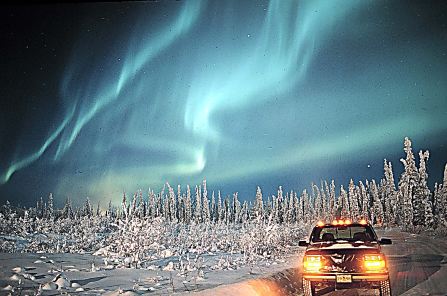 Of course the list is rounded out by Russia. It's famous for being cold and snowy and the nights being long in winter, so of course it's a great place to view Northern Lights. Russia can also provide an exotic travel experience for you and has some of the most northern cities in the world. The Russians are used to the weather, so they live pretty normal lives in spite of it. If you want to stay closer to a city, this may be your choice. The best places for viewing are somewhat away from the bustle in Murmansk, Siberia, and the Kola Peninsula. How far is that from a city? Murmansk is a city, so have fun. They also have a special train tour there to view the lights.
Now, if you don't want to go to an ice hotel, stay in a tent or an igloo, or go to the wilds of the Earth to view the Aurora Borealis, there's another way. There are several companies that offer cruises. Holland America is the most obvious, but there are many others. The great part about the cruise is the comfort and convenience. Not only will they keep you warm and entertained when the lights aren't in view, they will call you and tell you when they are. It's a great way to not have to think about it, but still get a great view. the ports of call are pretty good too all along the coast of Norway. Another thing that you can do is take an evening cruise in Iceland. They take you out for dinner to get you away from the lights of Reykjavik so that you can have a clearer and more pronounced view.
So, if you want to see them, that's where you go, and from November to March is when you go. How you get there is up to you. How you travel around to view them is up to you. There are many ways to accomplish this quest. So, don't hide inside during the winter this year. Put your parka and bunny boots on and head out to view nature's most awesome spectacle. The Northern Lights.
Enjoy!
http://www.csmonitor.com/Science/2013/0413/Aurora-Borealis-tonight-Dazzling-northern-lights-forecast
http://aurora-borealis.us/
http://www.icelandnaturally.com/search?q=aurora+borealis
http://www.viator.com/tours/Reykjavik/Northern-Lights-Viewing-Cruise-from-Reykjavik/d905-5477NORTHERN
http://www.tourvacationstogo.com/northern_lights.cfm
http://www.goalaskatours.com/winteractivities_northernlights.html
http://www.fodors.com/news/photos/top-10-places-to-see-the-northern-lights#!5-iceland-explore-beyond-reyjaviks-city-lights
http://travel.cnn.com/explorations/escape/5-places-see-brightest-northern-lights-696679
http://travel.yahoo.com/ideas/3-great-places-to-watch-the-northern-lights-in-america-224736177.html
http://www.norwegiancoastalcruises.com/northern-lights.html#.UmgFmBBuG5I
http://traveltips.usatoday.com/alaska-cruises-see-northern-lights-17540.html
http://www.fjordtravel.no/program_arctic.html
http://authentic-scandinavia.com/northern-lights
http://rbth.ru/travel/2013/07/18/northern_lights_train_offers_up_russias_polar_north_28175.html
http://www.travelallrussia.com/welcome3/?utm_expid=16286013-30.PMgwBRBNQQOyfyzWYjHicg.3&utm_source=bing&utm_medium=cpc&utm_campaign=Tours&utm_term=2402470579&utm_content=3182640405&utm_referrer=http%3A%2F%2Fus.yhs4.search.yahoo.com%2Fyhs%2Fsearch%3B_ylt%3DA0oG7p26EGhSDlkAY9kPxQt.%3B_ylc%3DX1MDMjExNDcwMDU1OQRfcgMyBGFvA2FvBGNzcmNwdmlkA1VnZk9ZRW9HN3Z4a0VPTUxVUVdyVEE2dlJNY2FkRkpvRU80QUJDczIEZnIyA3NidG4Ebl9ncHMDNARvcmlnaW4Dc3JwBHBxc3RyA25vcnRoZXJuIGxpZ2h0cyB0b3VyIHJ1c3NpYQRxdWVyeQNub3J0aGVybiBsaWdodHMgdG91ciBydXNzaWEEc2FvAzE-%3Fp%3Dnorthern%2520lights%2520tour%2520russia%26fr2%3Dsb-top%26hspart%3Datt%26hsimp%3Dyhs-att_001%26type%3Datt_my_portal_home%26pqstr%3Dnorthern%2520lights%2520tour%2520russia
http://www.cafepress.com/artisticcreationsbyninakindred1
http://pixels.com/profiles/terri-dixon.html
http://www.zazzle.com/imagings