I know this one may sound a little nuts, but I've been and it's a great way to spend your New Year's Eve and New Year's Day. There's something magical about the enthusiasm that the Hungarians have for New Year's. It could be that they're still thoroughly enjoying the fact that they are no longer Soviet bound. It could be that they've always been big on looking to the future. It could be that it's just a great excuse to go out and party. I don't know what it is, but Hungary is a great place to celebrate New Year's and Budapest is the zenith of it all.
In Hungary it's called Szilveszteri or Silvester's Name Day. The city of Budapest closes most of it's doors for the day at noon. There are cruises on the river, parties all around town, and fireworks at midnight. There are streets full of people. You can't find a more festive place.
Hungarians look to the future. In the older times, they used to burn a straw character to leave the old year behind them. They go and have their futures told. They eat pork for luck. I once went to a party where they came around just after midnight and had us pull a piggy's tale and make a wish for the new year. They have many traditions and many superstitions, and I loved learning them all. It's one of the best cultural experiences I ever had.
The Chamber Concert at the Danube Palace is probably the most traditional way to spend the evening in Budapest. It's the one thing that the whole city knows about and everyone goes to sometime. However, if you want to go to a party, visit any hotel, any club, half the parks, and the Fisherman's Bastion area of Castle Hill. There are parties all over the place. Just make sure you're in sight of the river skies at midnight to enjoy all the fireworks. They are spectacular.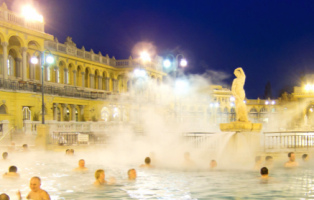 The Hungarians celebrate Szilveszteri everywhere. They even have a bash at the Szechenyi Baths. There's pretty much no place that you can go that is not celebrating this magical night.
The great thing about Budapest is that it is a great place to visit on a regular day. Castle Hill alone is worth the trip. Cruising along the Danube is one of the greatest experiences you'll have in a city in your life. Budapest is a wonderful amazing place full of secret caves from WWII, gypsy fortune tellers, and amazing architecture and beautiful views in general. The Hungarian people are friendly and love to meet new people. And if you've never had a traditional Hungarian Goulash, you need to make a stop in this city.
I'll take more time to talk about Budapest in the future, but I didn't want to miss out on making a great New Year's recommendation. Been there, done that. Trust me, it's a great time that you'll never forget.
Enjoy!
http://visitbudapest.travel/articles/new-years-eve-and-new-years-day-in-hungary/
http://www.budapestbylocals.com/new-years-in-budapest.html
http://www.newyearseveinhungary.com/
http://newyearseveblog.com/celebrating-new-years-eve-budapest-hungary/
http://newyearbudapest.com/
http://budapestrivercruise.com/new-years-day-budapest-river-cruise
http://newyearbudapest.com/new-years-eve-parties-in-budapest-2013-2014
http://www.budapestbylocals.com/new-years-eve-party-budapest.html
http://budapestrivercruise.com/new-years-eve-budapest-river-cruise
http://www.cafepress.com/artisticcreationsbyninakindred1
http://pixels.com/profiles/terri-dixon.html
http://www.zazzle.com/imagings