Most of us think of escaping to the tropics during the harsh and dark months of winter. However, there are those hardy souls that love the arctic spirit and turn winter into a wonderland of festivals, sports, frozen fantasies, and fun. For these wonderful people who make the rest of us look like wimps, I give you Maine.
I give you Greenville, Maine. This is the land of what happens in the north woods. This place is fabulous 365 days a year. In the winter in Greenville and the greater Moosehead Lake region, there are so many wonderful and unusual activities that you will never be bored and you will never feel like you are locked in the house. West Cove Racing starts the end of January and goes through February each year. This is where the men and the boys separate, as they race cars right on the frozen lake. And if you think that's the only thing that goes on out there, you're so wrong. Each January there is the commemorative snow machine ride up the the old B52 site to mark the anniversary of the plane crashing there back in the 60's. Moosehead Lake is also ground zero for great cross country skiing, snowmobiling, ice fishing, snow shoeing, and hunting. In February, there is a weekend chocolate festival for your entertainment as well.
I would be remiss if I forgot to mention that there are several notable ski resorts in Maine. You have Sunday River, Bigrock, Black Mountain, and Sugarloaf to name a few. All of them have great skiing and great accommodations. All of them have entertainment. All of them are a good time, but I have to mention Sugarloaf separately here.
Sugarloaf Mountain Hotel is a premiere location. This year they've added a 30 person outdoor hot tub so that guests can enjoy a Nordic experience with up to 29 of the closest--or not--friends. It's another unique experience for the northern adventurer. Also, at Sugarloaf each January they have White White World Week. This is your chance to be crowned king or queen of the resort. There are theme contests all week for the competition and everyone there has a lot of fun.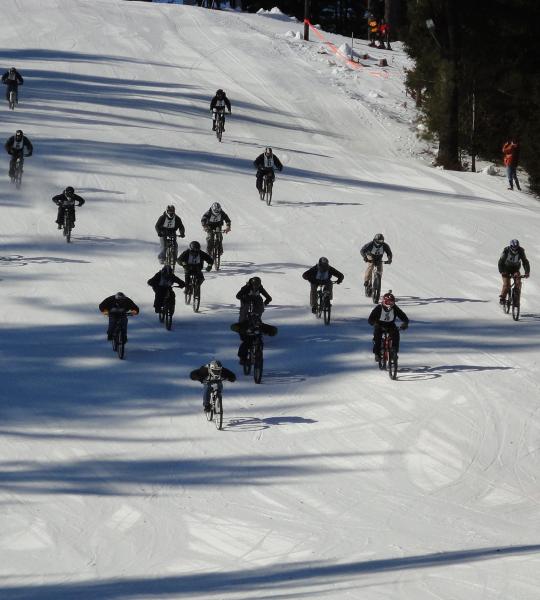 Auburn, Maine is home to some hearty souls and every January they have a wonderful winter festival. There are playgrounds made of snow, ice sculptures to wander through and admire, all kinds of entertainment, pond hockey, and yes, they do really race bicycles down snowy slopes. They also race decorated cardboard boxes, and they have a paintball biathalon. There's a lot of action, great food, friendly folks, and family entertainment at this one.
If you've ever wanted to try out an Olympic sport, come on out to Belfast and try it. The curling club there has all kinds of leagues, lessons, and open time to try out this surprisingly fun sport. Make sure you bring an open mind and you will have a great time.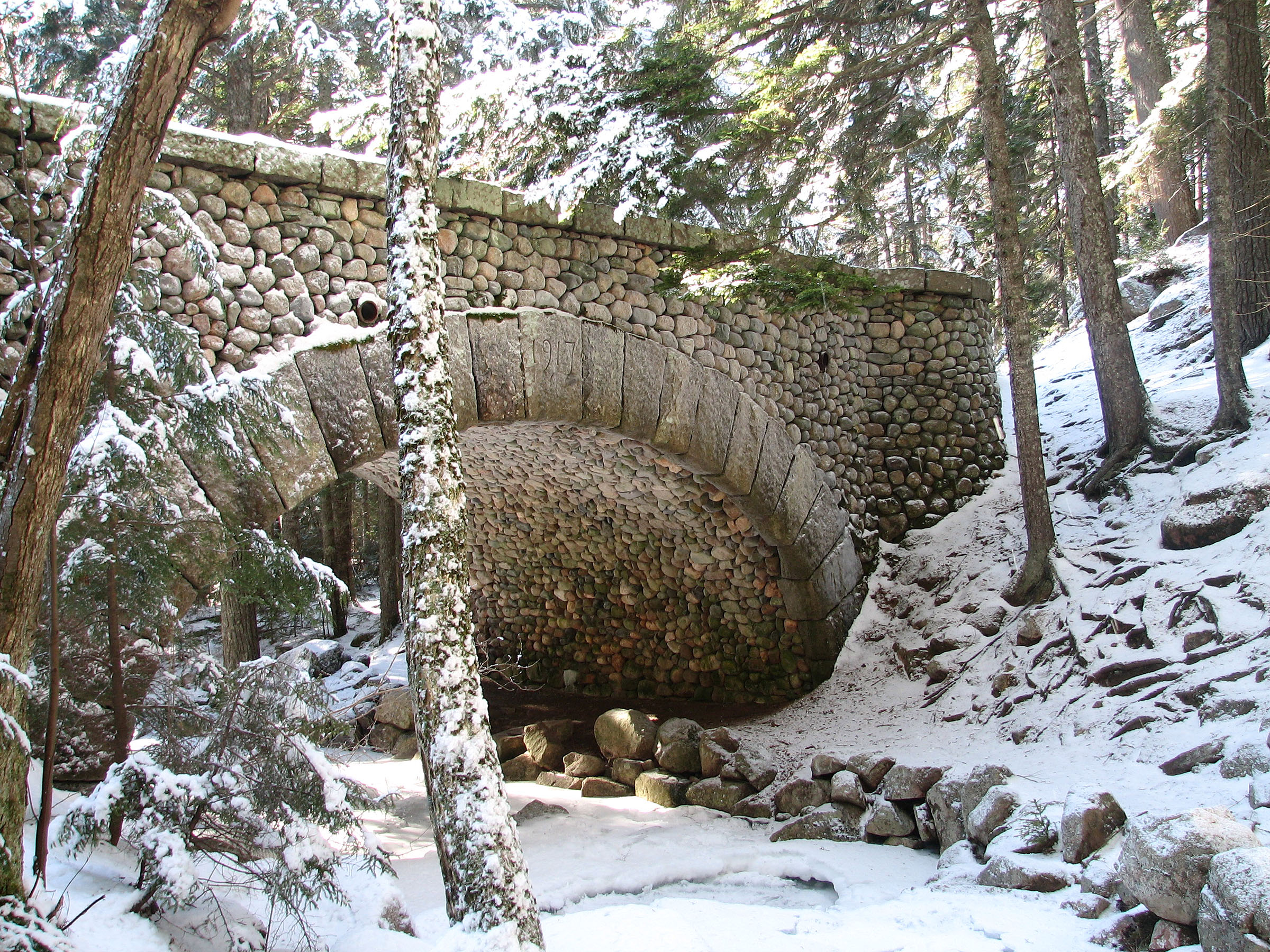 Acadia National Park is the easternmost national park in the country, and is a beautiful spot in the winter. If you think that Cadillac Mountain is gorgeous in the summer, you should see it in a slight blanket of snow. Acadia is beautiful in winter and you can go cross country skiing, snow shoeing, and horseback riding. It's a lot of fun with wonderful scenery.
If you like horses, you could head on down to Lisbon in February for the World's Greatest Sleigh Ride. This festival every year brings out all kinds of Belgian Draft Horses and tons of sleighs. It's a weekend of sleigh rides and snowmobile racing with a festival on the side. It's a lot of fun, and a great winter experience.
If you like the country atmosphere with sleigh rides and draft horses, there are farms and lodges around that provide this entertainment all winter long. Northern Heights Farms in Waterford is just one of the many places where you can have your mini adventure with horses and sleighs for a wonderful winter experience.
Portland isn't the capital of Maine, but some say it should be, because everyone knows of it. This blog has always been Adventures For Anyone. So, if there isn't enough of for anyone and everyone there's always Portland. It may be winter there and the winds off the Atlantic may be bitter and biting, but there's a town that just never slows down sitting right there on the shore. Portland is a great place to eat with extraordinary restaurants all over town. It's a great central spot along the coast, so you can do a lot of things with this as your hub. And they have the Ice Bar at the Harbor Hotel. The Ice Bar is seasonal, it is outside, and it is cold. The decor is ice, the art is ice and even the glasses are ice. There is entertainment and it's a lot of fun. So, if you're hearty enough, come on out in the cold, have a drink and a dance and a really great time.
If you've ever wanted to take the plunge and embrace winter rather than hiding from it, take this time and come to Maine where winter is the best time of year. America's Vacationland is at it's best in the cold. So, come and enjoy the festivals, the sports, the entertainment, the food, the sparkling nights, the one of a kind adventures and by all means, the view. Maine is one of the best places to spend the coldest part of the year, because it comes with some of the warmest hearted folks. You cannot have a bad time in Maine. I've tried, and failed many times.
Enjoy!
http://www.indianhill.com/event.php?B-52-Commemorative-Ride-104
http://cozymoose.com/greenville-maine-snow/
http://www.cross-countryski.com/maine.html
http://sundayriver.com/winter/mountain-report
http://www.skiblackmountain.org/
http://www.bigrockmaine.com/
http://www.sugarloaf.com/activities-and-nightlife/events/white-white-world-week
http://www.auburnmaine.gov/Pages/Government/Winter-Festival-
http://www.teamsideline.com/Org/Home.aspx?d=PHPFRdXlc4Vz4ma9Znzu7w%3d%3d
http://www.teamsideline.com/Assets/196/winterfest_bro_2014_v1h.pdf
http://www.portlandharborhotel.com/video-icebar.php
http://www.visitportland.com/
http://www.portlandmaine.com/
http://www.belfastmaine.org/
http://www.lisbonme.org/
http://www.auburnmaine.com/
http://www.belfastcurlingclub.org/
http://bangordailynews.com/slideshow/sights-from-the-worlds-greatest-sleigh-ride/
http://www.high-view-farm.com/our-farm/
http://www.northernheightsfarm.com/index.html
http://www.pinetreesociety.org/snowmobile.asp
http://www.sugarloaf.com/vacation-planning/lodging-options/sugarloaf-mountain-hotel
http://westcoveiceracing.com/
http://www.cafepress.com/artisticcreationsbyninakindred1
http://www.zazzle.com/imagings
http://pixels.com/profiles/terri-dixon.html