He's Charley Boorman, world renowned motorcyclist and adventurer, and for the last couple of years in February, he has led a motorcycle ride with limited availability across parts of Australia. Now, I will start out by saying that this is something that most celebrities don't do, but Charley isn't your average garden variety celebrity.
Charley is the son of legendary director John Boorman. You may have heard of some of his movies including Excalibur and Deliverance. Charley was in most of his father's movies when he was a child, and did some acting as an adult, but it didn't really work for him.
Ewan McGregor and Charley met on the set of a movie and became fast friends from their like love of motorcycles. This spawned the trip around the world on their bikes that was called Long Way Round. They traveled through several countries and even through the wilds of Siberia and Mongolia. It was such a hit that it spawned an entire career for Charley, which has been keeping us entertained ever since. After Long Way Round there was Race to Dakar where Charley and his longtime producer/buddy Russ Malkin attempted to complete the most dangerous race in the world. Then Ewan came back on board for Long Way Down, a motorcycle journey from Scotland to South Africa. From there, Charley just kept on rolling with By Any Means from London to Sydney, Right to the Edge; Sydney to Tokyo, and the Extreme Frontiers series: Canada, South Africa, and USA. He has numerous other television mini series in various countries all over the world. Viewers in 40+ countries around the world have been entertained. Those of us here in the USA that have followed his career would like to see his shows here someday. As it stands you can buy them on Amazon.com.uk and get a cheap DVD player to watch them.
In all of his travels, Charley has always been a staunch supporter of UNICEF and has worked with them for years. He also has books that he coauthored for six of his adventures and--get this--is well known as a dyslexic. He's a very interesting character that has been someone that I have followed for years. Charley is accessible though, and has a personality worth being around. You can twitter and message him when you want the join in on all of his adventures on group motorcycle rides. That's why his motorcycle tours are so popular.
So, what's all the fuss about this motorcycle ride? It starts on February 28th in Melbourne, goes around Tasmania to various amazing sights and ends in Sydney. It's nine nights and 1880 miles on motorcycle. You'll travel overnight on the ferry, visit the highest peak in Australia--Mt. Kosciusko in the Victorian Alps, visit Strahan; the best little town in the world, and ride up the coastal highway to Sydney.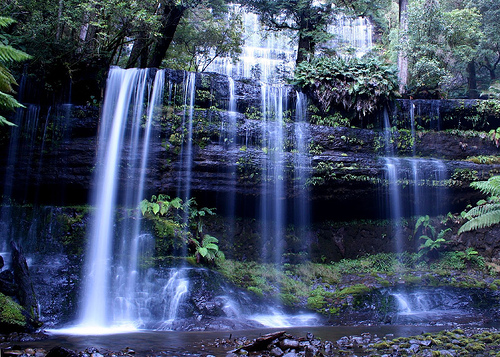 One of the wonderful sights that you'll get to stop at is Russell Falls in Mt. Field National Park. You'll also visit Franklin Gordon Wild Rivers National Park with more beautiful views. These parks are full of gorges and waterfalls, local flora and fauna, and a ton of great photo ops.
Strahan was voted the best little town in the world. This picturesque locale is a great place to do some fishing, take a cruise, and take some more really great pictures.
Also on the ride you will get to visit Kosciusko National Park and traverse the highest peak in Australia. This area known as the Victorian High Country or the Victorian Alps is a beautiful landscape.
Another stop on the trip is historic Port Arthur. This is where the convicts were housed in the 1800's. The entire town is a historic site. There are many things to see and do while you're there.
No matter how you cut it, you'll be riding from Melbourne to Sydney through Tasmania entirely on paved roads on your choice of motorcycle with Charley Boorman as your guide. It's a great way to spend the winter months, because Lord knows no one likes the cold. It's an adventure, and it's a good one. I've followed Charley for years, and it's a great time to spend some time traveling with a true professional. Take the time to check this one out through Compass Expeditions and start on your first true adventure of 2014.
Enjoy!
http://www.compassexpeditions.com/tour/short-adventures/tasmania-and-the-high-country/
http://www.charleyboorman.com/
http://www.bigearth.com/extremefrontiers/usa/
http://www.australia.com/explore/itineraries-ideas/nature-discovery.aspx?channel=paid-search&tacampaign=us-local-fy2013-167-nature-aus&campaign=167-nature-aus&message=brand&publisher=yahoo&website=yahoo&adgroup=national-parks&keyword=national%20parks%20in%20tasmania&matchtype=broad
http://www.wineglassbay.com/
http://www.discovertasmania.com/activities__and__attractions/wilderness_areas/national_parks_and_reserves/freycinet_national_park
http://www.australia.com/explore/states/tas/tas-port-arthur.aspx
http://www.discovertasmania.com/hobart_and_surrounds/towns_and_places/port_arthur
http://www.discovertasmania.com/hobart_and_surrounds/towns_and_places/port_arthur
http://strahantasmania.com/
http://www.visitvictoria.com/Regions/High-Country.aspx
http://www.themountaininstitute.com/reports/australia/kosciusko.html
http://www.australianalps.environment.gov.au/parks/kosciuszko.html
http://www.cafepress.com/artisticcreationsbyninakindred1
http://pixels.com/profiles/terri-dixon.html
http://www.zazzle.com/imagings