Here's one that I'd not heard about, even in my vast experience, until I was watching "The Big Bang Theory" a while back. The Queen Mary, one of the most famous transatlantic cruise ships ever, lives in Long Beach, California. I missed it. I admit it.
The Queen Mary was supposed to be the Queen Victoria, but King George misunderstood the situation and thought that the ship was being named after his wife, not thinking that they would name it after his amazingly beloved grandmother, Queen Victoria. And so it was to be that the ship would be forever called the Queen Mary. She was put into use in 1936 and made all kinds of speed records on her journeys. It wasn't until 1967 that she was decommissioned and taken to her permanent home in Long Beach, California.
The legend continues beyond the legends who sailed with this majestic ship like Bob Hope and Clark Gable, along with the entire British Royal Family. She's haunted. That's right, haunted. For decades the guests and staff aboard the ship have told tales about seeing guests swimming in the pool even though it's empty. There are tales of spirits wandering the ship that may have passed in a crash or in the boiler room, or during WWII. There are several tours that you can book that take you around the ship and give you the best paranormal experience possible. Is it a tourist trap? Yes, but it's a lot of fun anyway.
But regardless of whether or not the ship is haunted, it's an amazing place. Long Beach has turned it into a hotel and kept a lot of it's charm in tact. The staterooms are all one of a kind and gorgeous just like they were in the 1930's. When you stay aboard this ship you may not have a true paranormal experience, but you will have some fabulous food at one of the restaurants and bars, and you will have a beautiful room to sleep in. It's a great experience, and I think that anyone who loves ships and boats will love this.
Now that I've told you my main topic for Long Beach, let me tell you some more. This town is Mecca for seafaring boat lovers. First, this is the hopping off point where you catch the ferry to Catalina Island. If you want to read more about Catalina, I wrote about that one back in November, 2012.
Secondly, this is the home of the only battleship on the west coast, the Iowa. In LA Harbor, not far from Long Beach, sits the Battleship Iowa. The ship has now turned museum like others that you may find around the country such as, the Intrepid in New York or all of the ships at Battleship Cove in Massachusetts. It's a great way to bring to life the history of maritime battle for your kids.
Still loving that water theme? Next, hop on over to Naples Island and take a ride in a gondola. Gondola Getaways will be very happy to keep you on the water with a romantic ride that reminds you of Venice or the Venetian in Las Vegas, depending on your travel history. These guys do it all. They do more than just romantic rides for two. They have pizza parties and even do weddings in their gondolas.
But don't stop there. Take a cruise from the harbor in Long Beach. The Grand Romance Riverboat does dinner cruises and murder mystery cruises. This is a beautiful old riverboat replica that gives you that feel of being on the Mississippi and back in time. Murder Mystery Cruises are a lot of fun too.
Maybe you'd prefer a more modern style boat for your cruise from Long Beach Harbor. You can always take a dinner and dancing cruise with Spirit Cruises.
You can also catch a Harbor Breeze Cruise and go deep sea fishing, diving or whale watching.
Are you a huge fan of the water? Well, in Long Beach you could always check out the Earl Burns Miller Japanese Garden. Mr. Miller's widow, Lorraine hired Edward Lovell to build these gardens on a 1.3 acre plot in her husband's memory. The gardens are stunning and this is a really great one, because not only is it open almost every day of the year, but it's free. That's right, it's a free one. That does not happen very often in travel.
Let's not forget though, that Long Beach is named for beach and the beaches in this area are beautiful, so don't forget to take that sunset walk at least, even if you're like me and you're not beach people. Even if you never want to wear a bikini in your life, you should take the time to enjoy a sunset along this coast. You'll never forget it.
But, while you're in the area let's not forget how fond Californians are of their amusement parks. From Santa Cruz to Knott's Berry Farm to Disneyland, there are plenty of places to get your thrills. I just don't talk about that stuff much because I like the more offbeat ideas.
So, if you've toyed with the idea of coming to Southern Cali, but haven't decided if it's your thing or not, because you don't take to the beach that well, think it over. There's so much to do in this area that it's almost ridiculous to think that you could do it all. I would leave out the amusement parks, but that's just me.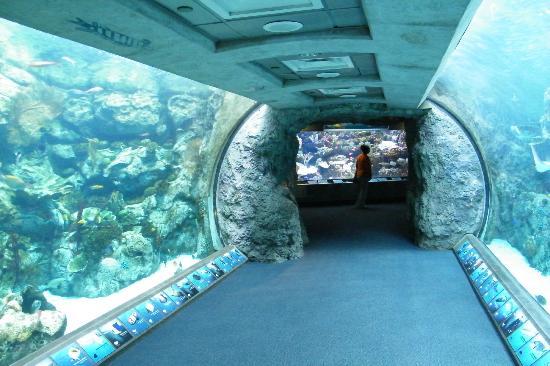 I would much prefer taking advantage of the Aquarium of the Pacific over riding another roller coaster. Don't get me wrong, I love roller coasters. I grew up with Cedar Point, so it's ingrained in my soul, but when I travel I like to do something new and amazing. That's why I don't concentrate on amusement parks.
That's exactly why I'll be that annoying person who will go to a place that has some of the most famous parks in the world, and I'll talk about something grand and amazing like the Queen Mary.
Enjoy!
http://www.queenmary.com/attractions-events/ghosts-legends.php
http://hotelreservations.com/propdetail.aspx?numberofbedrooms=1&locale=US&currencycode=USD&hotelID=133786&arrivaldate=-&departuredate=-&rooms=1&room1=2%2c0
http://www.catalinachamber.com/?utm_source=yahoo&utm_medium=cpc&utm_term=catalina+island+ca+entertainment&utm_campaign=exl
http://www.aquariumofpacific.org/
http://www.pacificbattleship.com/
https://disneyland.disney.go.com/
http://www.csulb.edu/~jgarden/aboutus/aboutus.html
http://www.gondolagetawayinc.com/
http://www.grandromance.com/
http://www.longbeachcruises.com/
https://www.knotts.com/
http://www.spiritmarine.com/
http://www.visitlongbeach.com/listings/index.cfm?catID=42&startrow=21&navid=30&lastShown=3004
http://www.cafepress.com/artisticcreationsbyninakindred1
http://pixels.com/profiles/terri-dixon.html
http://www.zazzle.com/imagings