Malta conjures up all kinds of mythical, exotic, and medieval images in the mind if you know anything about it at all. It's a country lost in time in so many ways, but modern in so many others. It gained it's independence from Britain in 1964, and didn't completely form a republic until 1974. It's a new country with an old look. It was the first European city to be laid out on a grid, which means that they had a plan. But that was back in the 1600's. Needless to say, that was a long time ago. There are only about 400,000 people on three islands (Malta, Gozo, Comino), and Comino is not inhabited at all. It is a lovely place to spend a day though.
Malta's climate is fairly warm, seeing as it's just off the coast of Sicily to the south on the way to Northern Africa. It has some of the clearest blue waters in all of the Mediterranean, and it has some really great beaches. Some of the beaches are not quite what you might be used to, but they certainly are interesting and beautiful. There are sandy beaches, out of the way beaches, city beaches and the cliff side beaches. Any and all of them are a great place to spend a day.
Valletta is the capital of Malta, and like many other cities on the island, it has walls. In medieval times, many European cities were walled (had bastions) for security against attack. Most of these walls across Europe are gone today, but in Malta they remain. The country is flooded with historical buildings, monuments, ruins, and harbors. In Valletta, there are fabulous gardens on the main bastion walls with both the upper and the lower Barracca Gardens. Not only are the gardens beautiful, but the view of the harbor is amazing. You can still walk along the walls, which provides a great view of the city as well.
The cities on Malta are old and the streets are narrow, so to this day getting around in a horse and carriage isn't all that uncommon. They are the taxis of Valletta. Tourists do love them as much as they loved the old buses, but the horse and carriages are still there. The old buses are gone, but there is some hope that they will be back in the future. We'll see.
Malta has been ruled by several religions over the centuries. There were pagans, Hebrews, Muslims, and Christians, but St. John's Cathedral is today one of the most prominent landmarks in the country. St. John was one of the most famous residents that Malta ever had, and the largely Catholic country today still honors him with celebration.
The harbor is what makes Malta. Grand Harbor is one of many harbors used by fisherman and ships around the islands and one of the largest natural harbors in the world. The painted boats of Malta are something that you won't see duplicated anywhere else. Each one is painted by hand, normally by the owner, and they are all different. It's like a floating art gallery in the middle of any given city.
Now, if you really can't get enough of modern resort life, and you want to miss out, there's the St. Julian's resort area. Here you can get all the massages, and hang out in clubs or by the pool and just take up space and sunlight. It's there. Just because it's Malta, doesn't mean that you can't do that, but why would you?
There are lots of architectural wonders from days of old to be seen and experienced in Malta. Valletta is awash with old Muslim style buildings, colonial buildings, and even ancient buildings. It's a great feast for the eyes.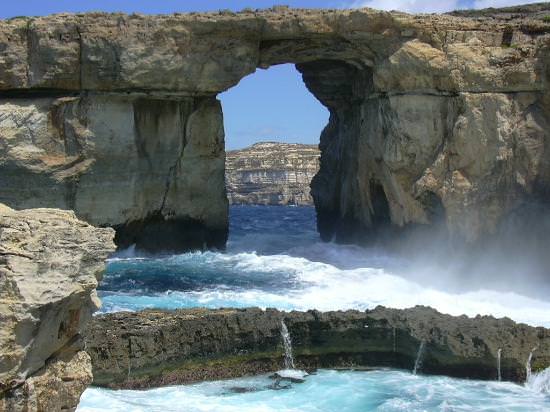 Malta also has beautiful coastlines. The Blue Grotto, while not the most famous one in the world, is beautiful. There are many caves along the coast of Gozo, and there are many tours to go and see them. It's a great way to spend a day, and you get to see an amazing natural bridge too. There are many things to see and do in Malta. There are more than I could ever talk about in one blog entry. I could spend months just looking around the islands. So, why did I pick this for an adventure for anyone? You might be surprised.
It's all about the movies, baby. Malta has a great little film industry going, and has been the site for many films from Gladiator to U571. But, did you know that Popeye, the musical was filmed here in 1980? Did you know that Sweethaven, the new home that Popeye came to in that film was built at Anchor Bay in Malta? It was, and it was so popular in the area that it is now a theme park. There are rides, shows, restaurants, boat rides, water trampolines and so on. It still looks just like it did in the movie, even though it has been rebuilt a couple of times over the years due to fires and weather.
Popeye's Village is a great place to spend some family time. It's not full of roller coasters, but it is a one of a kind place. I always advocate taking the time to go and visit old movie sets. In this modern time, so many movies are just made with CGI, so take a chance to visit a set from the time when they were not. Your kids will love it.
So, come and visit this place. You'll never forget it. You have history, culture, beaches, bastions, resorts, great food, beautiful harbors, great grottoes, and even famous film sets. There's so much to see, that you really can't do it all in one average trip. It does cost a little more than I'm used to paying, but it's worth it. Take the time to open your eyes and see Malta.
Enjoy!
http://www.amazon.com/Vista-Point-MALTA-TravelVideoStore-com/dp/B002QNUH1Q/ref=sr_1_5?s=instant-video&ie=UTF8&qid=1395932947&sr=1-5&keywords=malta
http://www.amazon.com/7-Days-MALTA-TravelVideoStore-com/dp/B001TJSOG8/ref=sr_1_6?s=instant-video&ie=UTF8&qid=1395933013&sr=1-6&keywords=malta
http://www.visitmalta.com/
http://www.malta.com/en
http://www.tripadvisor.com/Tourism-g190311-Malta-Vacations.html
http://www.gov.mt/en/Pages/gov.mt%20homepage.aspx
http://www.destination360.com/europe/malta/mdina
http://www.azamaraclubcruises.com/find-voyages-by-port/valletta-malta_MLA
http://www.cityofvalletta.org/
http://www.maltadeluxe.com/en/popeyevillage.html
https://www.facebook.com/pages/Popeye-Village-Malta/220396421309472
http://www.malta-holidays-and-property.com/popeye-village.html
http://www.vrmalta.com/malta-virtual-tour/Popeye-Village.html
https://www.cia.gov/library/publications/the-world-factbook/geos/mt.html
http://www.onetravel.com/booknow/flights/v6/airlines/air-malta?FPAffiliate=MSN&FPSub=MS03AL-15Apr&utm_source=MSN&utm_medium=cpc&utm_campaign=Airlines&utm_term=Airline&utm_content=v6
http://www.trafalgarvacation.com/?source=msnadc
http://www.maltatravelnet.com/
http://www.city-sightseeing.com/tours/malta/malta.htm
http://www.maltahotels.com.mt/malta-tours
http://www.greatmalta.com/trekking-in-malta.html
http://www.cafepress.com/artisticcreationsbyninakindred1
https://www.fictionpress.com/u/530752/Nina-Kindred
http://pixels.com/profiles/terri-dixon.html
http://www.zazzle.com/imagings