The end of the season is near. It's finally almost spring. What could be more fitting than to spend the end of the season with a warm ski weekend based in Denver, CO. Why do I mention this? It's always a wonder what strikes me about an area, but in the case of Denver, it is the accessibility of it all. That's right. There's not a more convenient place that I can think of to spend a weekend that could, in all reality, include skiing at several resorts.
Denver has it all figured out. They have the largest pedestrian mall in the United States in the 16th Street Mall. Here you can shop and eat til you drop with a bus that comes by every 90 seconds to give you a lift. It's one of the most convenient shopping experiences that I've ever heard of. You can find it all on this street.
If downtown isn't quite enough for you, one block west is Larimer Square. This is the oldest part of Denver. It had fallen into a rundown slum area, until the city decided to refurbish it and turn it into a great place to hang out and take a step back in time. It is the first area to be declared a historic district in the U.S. and it has all the charm of the era when the gold rush was in town.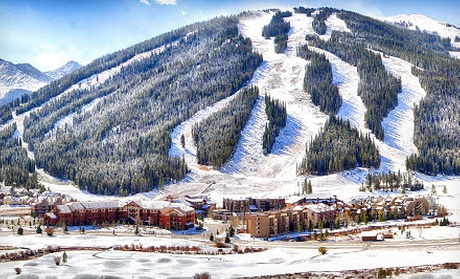 But, irregardless of the shopping and the eating and the old time look of the wonderful city that is Denver, I am recommending a ski weekend. Denver is just a hop skip from such wonderful ski resorts as Breckenridge and Copper Mountain. And Denver has something that not a lot of cities have for this kind of activity. They have transportation. That's right. You can fly into Denver International Airport, go to your hotel in historic downtown, and go to the local ski resorts without renting a car. You can do it without wondering where to put your skis, or worrying about getting lost, or wondering where to park. Denver has a great system and you just can't beat it.
Most of the hotels in Denver are gathered in a tight little area not far from the 16th Street Mall. If you fly into Denver International Airport, you can get a shuttle to your hotel. It's easy to get around all of Denver, but especially the downtown and Larimer Square areas. If you stay at the Hyatt Regency at the convention center, and certain other hotels, the Colorado Mountain Express will come and take you to your local ski resort. That's right, put away the car rental membership and take the public transport. It's the way to go. It makes for a really easy, relaxing weekend. The CME Shuttle goes from the listed hotels to Breckingridge, Copper Mountain and more. All you have to do is bring your gear and a modest fee for the ride.
The 16th Street Mall is a great place to try out world famous eateries and clubs. They have such well known places as the Wolfgang Puck Cafe' and the movie famous Coyote Ugly Nightclub and Bar. There is world class shopping as well.
Not far is the Denver History Museum, the aquarium, the Capital Building, D & F Tower, and the City County Building. These are all great places for family visiting, and folks who are big on architecture and history, science and art. The park at the civic center and it's gardens are also well worth the time.
But, I digress. The reason that I'm plugging this location for a weekend getaway is because of the transportation. It's great. Shuttles to ski, shuttles from the airport, a bus every 90 seconds on the 16th Street Mall, and a great bus system all over town. This is a fabulous place to spend you time. What if you don't like to ski? So what? There are so many things to see and do in Denver, that you don't have to ski to have a good time. Denver's airport is a modern marvel with it's domes that represent the Rocky Mountains. Just sit back and enjoy the ride. Even Buffalo Bill enjoyed Denver. That's why he lived in the Larimer Square area for a while.
There's so much to see and do in Denver that you can hardly fit it in during one weekend, but for the convenience, and the price of flights out that way, it's certainly worth a try. There's something for everyone. You don't have to ski. You don't have to worry about getting yourself around. It's just a great way to enjoy one of America's great cities.
Enjoy!
http://www.coloradoskiauthority.com/denver/transportation/#.Uyr-DIWa__k
http://www.coloradomountainexpress.com/downtown-denver
http://www.denver.org/
http://www.denver.com/attractions
http://www.colorado.com/cities-and-towns/denver
http://www.downtowndenver.com/
http://www.experiencedowntowndenver.com/
http://www.opentable.com/denver/downtown-restaurants
http://www.denver.org/what-to-do/itinerary/detail?cid=33
http://www.expedia.com/Downtown-Denver-Denver-Hotels.0-n800030-0.Travel-Guide-Filter-Hotels
http://www.hyatt.com/hyatt/features/searchResults.jsp?language=en&isFromHICBookingValidator=HIC&showmap=false&src=agn_pfx_ppc_Brand_Denver_bing_Brand_Denver_HR+Denver+Convention_Exact_be_hyatt+regency+denver+at+colorado+convention+center_Brand&mckv=maQscPNy_pdv_c_pcrid_3998835413_pmt_be_pkw_hyatt+regency+denver+at+colorado+convention+center&currentRadius=25&type=unit&se=2&_requestid=69543
http://www.coloradoski.com/
http://flydenver.com/
http://www.freshtrackstransportation.com/airport-shuttles/denver-international-airport-to-breckenridge/
http://www.breckenridge.com/?cmpid=PPC117602668
http://www.coppercolorado.com/winter/index.html
http://www.vail.com/
http://shopping.larimersquare.com/
http://restaurants.larimersquare.com/
http://www.denvergov.org/
http://www.denver.com/places/colorado-state-capitol-building
http://denskibus.com/
http://www.denvergov.org/parksandrecreation/DenverParksandRecreation/Parks/MountainParks/tabid/443588/Default.aspx
http://www.cafepress.com/artisticcreationsbyninakindred1
https://www.fictionpress.com/u/530752/Nina-Kindred
http://www.zazzle.com/imagings
http://pixels.com/profiles/terri-dixon.html