I think the one of the mos famous skylines in the world probably belongs to Abu Dhabi in the UAE. The Burj al Arab Hotel probably heads the list of famous buildings in the city, even though there have been many amazing places built since that one hit headlines all over the world. There are so many things that we don't know about Dubai, but one of the things that we do know is that they have money there, and it's an opulent place to be. I remember when Michael Jackson moved there and so did many other huge stars from around the world. Why Dubai?
Dubai is one of the most interesting spots on Earth. When they felt that they'd run out of room, they started building islands. That's right, islands. They didn't build any old islands either. They built the Palm Island, one of the most talked about projects ever. The idea of bringing in tons and tons of sand and Earth from the ocean to spray into the shape of a palm tree seemed outrageous to the rest of the world, but fascinating nevertheless. But Palm Island wasn't to be alone. There are more than one of those out there and then came along the idea of bringing the world to Dubai. The latest set of islands is The World. It's a world map made out of islands, and for a price--several million dollars--you can live in your own little island country. What a crazy idea that just goes to show that if you want something, you can find a way.
The Burj Khalifa was at one point the tallest building in the world. I think that the current title belongs to a building in Taipei. Etihad Towers has the best observation deck in town called the Observation Deck at 300. The 300 refers to the number of meters you are up at that time.
But that's Dubai. It's always under construction. They're always looking for that next project that will amaze the world. That's how they fly in Dubai, because they are one of the richest nations in the world. They have it all there, and they want to share it with the world. Bordering on Oman and being right in the thick of things with all the nations that many Americans are trying to avoid, because of terrorism and such, Dubai has had it's battles with it's image. They will tell you there that they want nothing to do with the problems that plague much of the Middle East. They want nothing to do with all the extremists and Al Qaeda and anyone that ever pledged allegiance to Osama bin Laden. They have advertised many times over the years that they will fly you around that terror zone when they fly you into their country. They want to protect you and show you a really good time. I like the spirit that runs this country. It makes it beautiful, even though it's just another desert covered country in the Middle East.
There are many places in Dubai that qualify as an adventure for anyone. Ski Dubai was the solution to a problem, just like a lot of things in this desert country. They wanted a place to ski. So, they built one. This is the world's foremost indoor ski resort. It's right at the mall. It has everything that a regular ski resort has to offer. They have a lift, slopes, bars, restaurants, ski outfitters, lessons, and you can stay the night if you like. It's all real homemade snow from the finest machines, it's cold so you have to wear gloves, and it's a lot of fun all year round.
You can go out to Yas Island and go racing. That's right. That's an adventure for anyone. The Yas Marina Circuit is built for Formula 1 racing, but you can go and have a driving experience. There are several options that you can choose from. All of them will get you out on that track going really fast. The best part is that if you don't want to drive, they'll take you out as a passenger. There are several car types to choose from and you can't beat being able to go out and race around the track yourself.
Do you like a good day at the track? Do you like to watch the ponies? Well you can do that in Dubai, but if you want a real hoot, you should check out the camel races. I'm not joking. It's a cultural activity in the Middle East and they have a few places around Abu Dhabi that hold camel races.
Let's not forget that Dubai is an Arab country. There are thousands of Muslims in the area and they go to mosques a lot. The Sheikh Zayed Grand Mosque is one of the largest Mosques in the world. It can hold up to 40,000 visitors. It has 82 domes. It has over 1,000 columns. It houses the world's largest knotted carpet and one of the world's largest chandeliers. It has 24 carat gold chandeliers around the interior. It's a magnificent wonder in gold and white and well worth a visit, no matter what your beliefs are.
One of the best ways to see the city of Abu Dhabi is to do it on a Dhow. This traditional form of transportation will land you on the water and give you an amazing view of the city. There are a lot of dinner tours that take you out in the evening and provide a wonderful meal of local cuisine. This is one of the more relaxing ways to view the city which has one of the most amazing skylines in the world.
But, as you all know, I'm not looking to spend my time in a place because of something so predictable as tall buildings and dinner cruises. It's true that skiing inside is interesting, but if you've ever watched the Travel Channel, you've seen that. Camel racing is interesting, but it's fairly predictable too, and even the car racing is done in various venues around the world. There are some other things that I look for and one of them is a great drive. Being in that top section for great drives in the world, with a great view from the top really gets my juices flowing and that's what you get with the Jebel Hafeet Mountain Road. This road spans 7.3 miles and goes up a mountain that's 1,219 meters high. That's 4,022 feet for you Americans. That's quite a drive. It's ranked as one of the most beautiful drives in the world with 21 corners for a challenge.
The view is amazing too.
It's all great. It's well worth the trip to the United Arab Emirates. But the thing that got me was the idea of going out into the desert and having a Bedouin experience. There are a few places that will take you out for a night or two of camel riding and sleeping in authentic Bedouin tents. It's a great way to learn about the culture and the food and the lifestyle of the people who have inhabited this land possibly longer than anyone else in the neighborhood. But, there's one place that I could not ignore and that was the Arabian Nights Village.
At the Arabian Nights Village you can stay in a tent or you can stay in a luxury suite. The choice is yours. This is the only place that you will be experiencing ancient Emirate culture. This is the spot that tells you what it used to be like in the old days before the skyscrapers and oil.
You can learn about falconry at the village, as well as go sand boarding, camel riding, ATV riding, or dune bashing. There are many things to do at this beautiful oasis in the desert.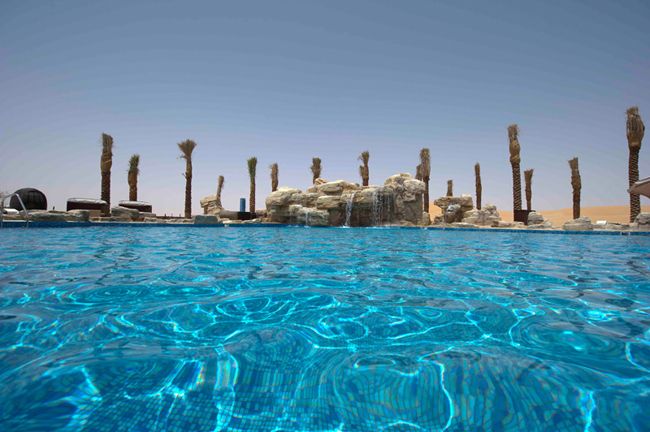 You can even take a dip in the pool. This is an oasis in the desert, so it is lush and surrounded by the harshness of the desert. It's a lot of fun.
And finally, for the avid adventurer that wants to do that something that is unique and a lot of fun, I have the hokey, yet fantastic once in a lifetime thing for you to see and it is just outside of Abu Dhabi.
Sheikhs often have more money than they know what to do with as was the case with Sheikh Hamad Bin Hamdan Al Nahyan or the Rainbow Sheikh. He loved cars so that he collected over 200 of them and it is now the Emirate National Auto Museum. It's housed in a pyramid and has some very unusual things. One of them is a hand built Dodge truck that is a monster in every way. It is the biggest truck in the world and you can actually drive it, but I don't know why you would.
Another attraction at the museum is the collection of Mercedes. There's one for every color of the rainbow, which is in part how the Rainbow Sheikh got his name.
There's the world's largest RV. and so much more. There are dune buggy Volkswagon Beetles, and exotic kit cars. There are high cost antiques and muscle cars all over. It's a treasure trove for anyone who likes cars. There are even some ATV's and motorbikes in there. It has it all and it's fun for anyone. Even the boys from Top Gear UK have stopped by for a visit.
Anybody want to head out for a trip in a giant Willy's Jeep?
So, whether you're headed to Ferrari World to ride the world's fastest roller coaster, or you're just there for the overall experience, Abu Dhabi and the surrounding area have it all. There are so many one of a kind experiences there that I can't mention them all. It's a place of all the wonder that money can buy and they want to share all of their toys with the rest of the world. The surprise is that you can visit without being a millionaire. The prices are very competitive with activities of the same kind around the world, and the hotel prices aren't bad. It's worth looking into.
I have a few cautions about this one though. Do your homework before visiting an Arab country. Are they bad places...no. But, if you are going to go to a country with such a vastly different culture than our own here in America, you must learn how to behave. It's important that you go out of your way not to offend your hosts. Remember, they still somewhat favor men. the UAE is fairly liberal for the neighborhood that it's in. There are some places where men and women are separated, like the mosques. Be very respectful of the mosques. If you enter any of them remember to learn the rules and follow them all. Also, alcohol is available at the resorts and so forth, but you won't find it where the locals go. It is strictly forbidden in Muslim culture. There are rules here, so learn them before you go and follow them while you're there. It will make your visit much more fun. Also, watch out for the summer heat as it is much better to travel here in the fall and spring months. As always check for alerts with the State Department before booking and register your trip with them before you go. It's just good practice in a tense world and a very tense area of it.
Enjoy!
http://www.skidubai.com/
http://arabiannightsvillage.com/DesertSafari.php
http://www.abet-uae.com/
http://www.yasisland.ae/
http://www.yasmarinacircuit.com/
http://www.mirajislamicartcentre.com/
http://www.desertislands.com/EN/
http://www.thecollection.ae/places/dining-cafe-lounge/abd-el-wahab-0
http://www.mostbeautifulworld.com/most-beautiful/most-beautiful-drive-jebel-hafeet-mountain-road
http://www.speedcafe.com/2012/04/10/v8-drivers-take-on-jebel-hafeet-mountain-road/
http://www.enam.ae/about_enam.html
http://adpearljourney.com/
http://www.nettoursuae.ae/
http://www.aldhafra.net/
http://visitabudhabi.ae/en/default.aspx
http://www.abudhabi.com/
http://visitabudhabi.ae/en/what.to.do/experiences/camel.racing.aspx
http://tcaabudhabi.ae/en
http://www.lonelyplanet.com/united-arab-emirates/abu-dhabi#
http://www.privateislandsblog.com/2007/08/07/the-world-dubai/
http://www.abudhabi.com/hotels/
http://www.uaeinteract.com/culture/
http://www.emirates.com/us/english/
http://www.cafepress.com/artisticcreationsbyninakindred1
http://www.zazzle.com/imagings
http://pixels.com/profiles/terri-dixon.html