When most of us in America think of going to a place just to have fun, we don't think of England. It's not our fault. We were raised with Disney, Las Vegas, Atlantic City, the Wisconsin Dells, Branson, Cedar Point, and all the Six Flags that anyone can handle. The amazing thing for me is that if you take most of that and plunk it on the other side of the pond, you get Blackpool, England.
We've all seen the Steel Pier in Atlantic City. Here in Blackpool, they have three piers for entertainment. They have roller coasters, cabarets, and all sorts of amazing things. Here in Blackpool, they have history, casinos, and so much more. They have an amazing zoo and an aquarium.
Pleasure Beach has a thrill a minute and is one of the hottest spots for fun in Blackpool. There are roller coasters and a ton of other thrill rides to keep you busy all day long. Here there is a Nickelodeon Land for the kids too. Pleasure beach has a suspended coaster that is entirely over the water here, just in case you haven't had enough thrills.
Sandcastle Waterpark is one of my favorites. In England, you can't always count on the weather, and Blackpool, for the most part is open year round. The fact that this great waterpark is indoor-outdoor, makes it the perfect choice for times when the weather isn't perfect.
There is always that one thing that stands out when you go to a resort area. There's that one landmark that makes the spot unmistakeable and that's the one that everyone takes a picture of. In Blackpool, it's Blackpool Tower. This magnificent building has always reminded me just a little bit of the Eiffel Tower in Paris, or the one in Las Vegas, depending on your travel tastes. But the tower here in Blackpool is a little different. This building not only has an elevator that transports you to the top where you can walk around on the Walk of Faith as they call it--the glass bottomed observation deck, but it has so much more.
The tower is home to England's best circus. This circus has been performing in this building for decades. The grandeur of the architecture inside the tower just adds to the show. The interior of the tower still looks as it did when it was built. It's been preserved in it Victorian glory.
The old architecture is most evident, however, in the Tower Ballroom. This is an amazing space that still holds balls and extravaganzas. If you like, you can still come dancing at the ballroom, but make sure you bring a partner, because it's only couples dancing in here. Also, check for dress codes of the events you attend. They may just be black tie and cocktail dresses.
There are other things to do at Blackpool Tower, like the Dungeon. It's full of shows and thrills, and it's just like any other grand place. The real fun is underground. The tower is an amazing place and it's kind of the center of it all in Blackpool. You can't come here without visiting this.
Blackpool has a lot to offer. There are at least twelve miles of attractions here, and they have a tram that runs up and down so you can get to it all. The beaches are wonderful and normally quite crowded. There are casinos, tons of shopping, world class restaurants, museums, and more. They have a Madame Toussads, a Ripley's Believe it or Not, and all kinds of hokey attractions. It's impossible to be bored here. This summer they are putting on Mama Mia for the masses. In June they are having Armed Forces Week with all the events that go with that. There's so much to do, that you can't do it all in one visit.
I have to mention the accommodations in Blackpool. They have grand old hotels, and pricey resorts in Blackpool, but you don't have to go that way. There are tons of holiday parks, or as we call them campgrounds where you can bring your caravan, or as we call it camping trailer. There are some places where you can rent them rather than bringing your own. There are also cheaper hotels. You can book a room in a hotel in Blackpool for as cheap as $50 American. That's great for those of us who travel on a budget.
But all kidding aside, I always pick a place because it has something different, something unique. So, what then is the adventure that I picked this place for?
The lights. That's right, Illuminations. At the end of August every year they switch on the Illuminations and they run every night until early November. The whole of Blackpool becomes bright with neon and glows with lights. It's something that you won't see anywhere else. It's started with the Switching on Festival. It's a whole celebration just to turn on the lights and it's one of the biggest festivals in England. It's a can't miss in a place that just plain fun anyway.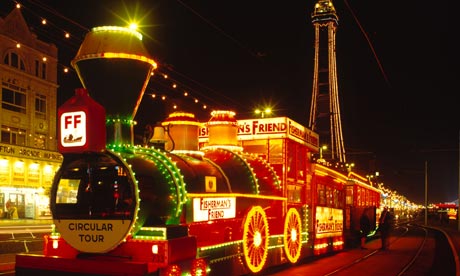 So, if you're hooked on resort towns, Blackpool, England is a whopper. There's more to do than you could do in a single vacation. It's one of the hottest spots for the Brits, and with good reason. Whether you want to come in the highest season and fight the crowds for the beach, or you want to wait for the amazing Illuminations and fight that crowd is up to you. For my money, I say go during the Illuminations Festival and have the best of both crowds. It's a once in a lifetime vacation, and it's quite an Adventure for Anyone.
Enjoy!
http://www.hoseasons.co.uk/holiday-parks/north-of-england/lancashire
http://www.visitblackpool.com/
http://www.world-guides.com/europe/england/lancashire/blackpool/
http://www.visitblackpool.com/tourist-information-centre/
http://www.blackpool.com/sights.html
http://www.visitlancashire.com/explore/blackpool
http://www.booking.com/city/gb/blackpool.html?aid=306742&label=msn-gvIW2Pn9O4x_dC_0A_CnQQ-469717468&utm_campaign=United+Kingdom&utm_medium=cpc&utm_source=bing&utm_term=blackpool%20hotels%20united%20kingdom
http://www.blackpooltours.com/
http://www.gpsmycity.com/tours/sightseeing-tour-of-blackpool-5626.html
http://www.ukstudentlife.com/Travel/Tours/England/Blackpool.htm
http://www.britanniahotels.com/hotels/blackpool-savoy/?utm_source=msn&utm_medium=cpc&utm_term=savoy%2Bhotel%2Bblackpool_Broad&utm_campaign=Blackpool%2B|%2BProperty_The%2BSavoy%2BHotel&tmad=c&tmcampid=5&tmplaceref=msn&tmclickref=savoy%20hotel%20blackpool
http://www.toprooms.com/hotel/uk/lancashire/blackpool/
http://www.blackpoollive.co.uk/
http://www.world-guides.com/europe/england/lancashire/blackpool/blackpool_events.html
http://www.blackpoolpleasurebeach.com/
http://www.theblackpooltower.com/
http://www.wintergardensblackpool.co.uk/
http://pixels.com/profiles/terri-dixon.html
http://www.zazzle.com/imagings
http://www.cafepress.com/artisticcreationsbyninakindred1