I don't know about you, but this is kind of the way I've always pictured the place where Santa lives. And this is the time of year when thousands of kids of all ages start thinking about Santa Claus for one reason or another. Now, we've all outgrown the Santa myth as adults, but wouldn't it be nice to fly away to a fantasy now and then?
Here the first one of my Santa stories.
This is North Pole Alaska, and it's home to Santa Claus. Now, haven't you always wanted to go to Alaska anyway? Most of us have. This little town isn't far from Fairbanks, and the good news is that although this is the time of year that most people think about visiting Santa, you can come visit him here anytime.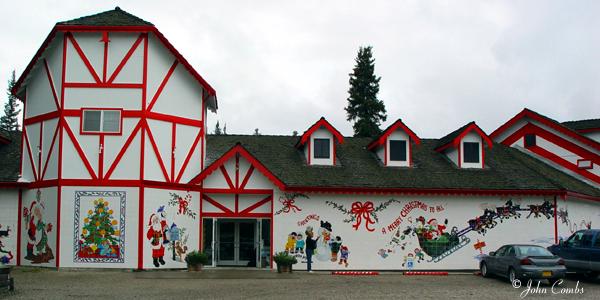 It's always Christmas at Santa Claus House.
There's shopping, there's visiting with Santa,
and you can even feed the reindeer.
But there's more to this sleepy little town than meets the eye.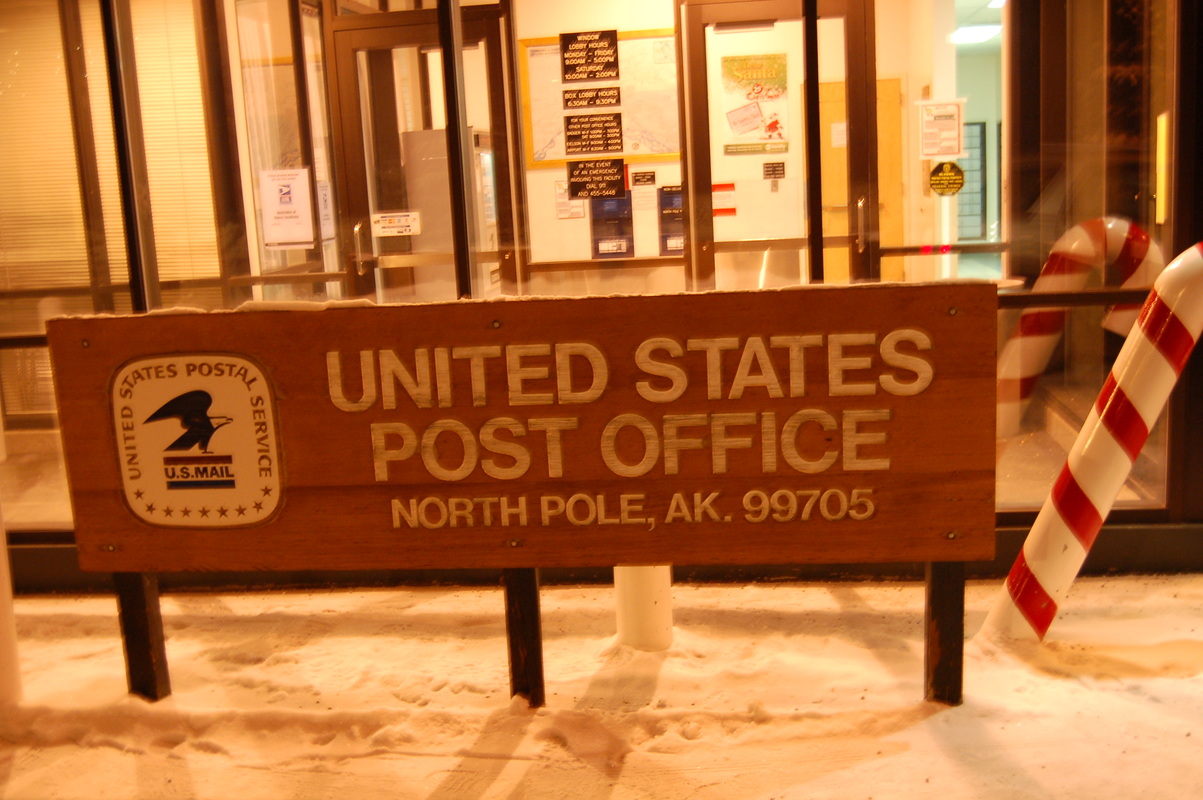 North Pole, Alaska's post office is legendary. The town founders started a tradition many years ago that continues today. You can order a special letter from Santa Claus for your child or the child in you. The original letter from Santa will come directly from the good people who work with the Santa Claus House and will be postmarked as coming from the North Pole.
If that option doesn't appeal to you, in the tradition of other theme towns across the country, you can buy an inch of the North Pole that comes complete with deed for your very own square inch.
Towns like North Pole are far too rare. It's a great side trip to an otherwise regular skiing or snow machining holiday. So take the side trip. Take the short 40 mile drive from Fairbanks and see what has become one of the most popular inland attractions in the state.
It's far too rare that we have a chance to visit an entire town that doesn't take life too seriously. Have some fun. Take that side trip. Come and visit Santa at North Pole, Alaska.
http://fairbanks-alaska.com/santa-claus-house.htm
http://www.santaclaushouse.com/index.asp
http://fairbanks-alaska.com/north-pole-alaska.htm
http://www.alaskatravel.com/alaska/north-pole.html
http://www.santaclaushouse.com/
http://www.northpolealaska.com/
http://search.travelalaska.com/search?output=xml_no_dtd&site=TravelAlaska&client=TravelAlaska&proxystylesheet=TravelAlaska&q=north%20pole
https://secure.travelalaska.com/Destinations/Communities/North%20Pole.aspx?tab=2
http://www.tripadvisor.com/Tourism-g31079-North_Pole_Alaska-Vacations.html
http://www.alaskantour.com/
http://www.alaskaheritagetours.com/?utm_source=Bing&utm_medium=cpc&utm_term=+alaska%20+tour&utm_content=alaska_tour&utm_campaign=aht_ppc
http://www.alaskawildland.com/ppc-home.html?utm_campaign=awa-bing-2013&utm_source=bing&utm_medium=cpc&utm_term=alaska tour&utm_content=alaska
http://www.norad.com/
http://www.cafepress.com/artisticcreationsbyninakindred1
http://www.zazzle.com/imagings
http://pixels.com/profiles/terri-dixon.html
Enjoy!